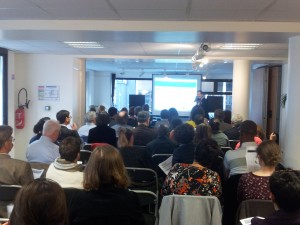 The annual SYMPOSIUM of the forum that took place on November 23 offered a direct follow up of the decision made in the Baku Session by the IGC (DECISION 8.COM 5.c.1): Encouraging States Parties to 'Promote increased NGO and community involvement in the development of policy, legislation, safeguarding plans and sustainable development plans (Recommendation 2)'; The idea of the symposium was to revisit the accomplishments of ICH NGOs in four important and mutually interlinked realms of ICH safeguarding – public policies, legislation, safeguarding measures and sustainable development -, which all require a close collaboration between NGOs and States Parties.
The Symposium had an exceptional attendance with 95 participants from NGOs, communities, researchers, State parties and members of National UNESCO Commissions from over 38 countries worldwide.
The event combined presentations with an interactive format that facilitated the exchange of ideas and the sharing of experiences producing a day of diversity, inclusivity and positive energy.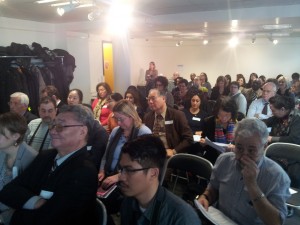 The forum has taken another step in fostering mutual collaboration of public policy decision makers and civil society organizations in the shared purpose of safeguarding ICH in the world. By the end of the day it was demonstrated that exist growing active and dynamic relationships between NGOS and State parties. An important part of this collaboration has been established since the 8.COM Baku Session by the recommendation to actively involve NGOs in periodic reports by States Parties. This is confirmed in ITH/14/9.COM/5.a (§81, §82) periodic reports of the States Parties. The ICH NGO Forum envisages a deeper involvement in the future implementation of this recommendation.
The symposium brought together a range of stakeholders fostering awareness of their diversity and the wide range of roles that they play to benefit communities.
The rich diversity of the NGO community is enriching and means that the Convention is implemented on many different levels. This also comes with the challenges of NGOs working at very different scales. The inclusivity of the forum provides a setting that gives even the smallest NGO the opportunity to make a valuable contribution to the Convention.
Click here to read the report of the World Café on the Symposium.
Here the power point presentations of the section: "GOOD, BETTER, BEST PRACTICES of close collaboration between NGOs and States Parties in the interlinked realms of ICH safeguarding  public policies, legislation, safeguarding measures and sustainable development".
1. Experiences from Brazil – Antonio Arantes- ARTESOL / UNICAMP
2. Experiences from  The Philippines – Carmen D. Padilla – International Organization of Folk Art – IOV
3. Experiences from Kenya – Francis Gichuru- AFRICAN CULTURAL REGENERATION INSITUTE: ACRI
 4. Experiences from Indonesia
– Gaura Mancaccaritadipura – National KRIS Secretariat & advisor of the Minister of Culture
– Parmin Suparmin Sunjoyo – SenaWangi: Indonesian National Puppetry
5. Experiences from China – Gang Zhu  and Lihui Yang – China Folklore Society
6. Experiences from The Netherlands
– Albert Van der Zeijden- VIE : Dutch Centre for Folk Culture and ICH
– Riet de Leeuw – OCW: Ministry of Culture
(Here some pictures of the Symposium)