(see below for the french version)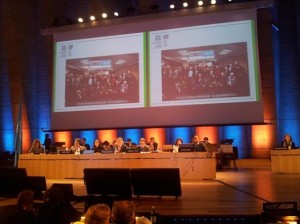 Dear Mister Chair,
Thank you for offering the floor to the ICH NGO Forum.
We are very delighted to bring a report of the annual SYMPOSIUM of the forum taking place yesterday and bringing a direct follow up of the decision made in the Baku Session by the IGC (DECISION 8.COM 5.c.1):Encouraging States Parties to:
a). Promote increased NGO and community involvement in the development of policy,
legislation, safeguarding plans and sustainable development plans (Recommendation 2);
Yesterday the NGO forum had its annual symposium and we had an exceptional attendance with 95 participants from of NGOs, communities, researchers, state parties and members of the national UNESCO Commissions from over 38 countries worldwide.
The idea of the symposium was to revisit the accomplishments of ICH NGOs in four important and mutually interlinked realms of ICH safeguarding – public policies, legislation, safeguarding measures and sustainable development, which all require a close collaboration between NGOs and States Parties.
The event combined presentations with an interactive format that facilitated the exchanging of ideas and the sharing of experiences producing a day of diversity, inclusivity and positive energy. The forum has taken another step in fostering mutual collaboration of public policy decision makers and civil society organizations in the shared purpose of safeguarding ICH in the world. The day demonstrated that there are growing active and dynamic relationships between NGOS and state parties. The symposium brought together a range of stakeholders fostering awareness of their diversity and the wide range of roles that they enact to benefit communities
The rich diversity of the NGO community is enriching and means the convention is implemented on many different levels and it also comes with the challenges of NGOs working at very different scales. The inclusivity of the forum provides a setting that enables even the smallest NGO the opportunity to make a valuable contribution to the convention.
The forum will be meeting throughout this week and discussing important topics – lighter ways of sharing best safeguarding practices, the issues of  responding to the reporting of the accredited NGOs on their four year reports, the new evaluation body with the enhanced role for NGOs,  periodic reports in which a greater NGO role is envisaged.
You can follow the activities of the forum through the website ICHNGOForum.org including the online journal '#heritage alive' and an ongoing platform for exchanges and experiences from several working groups and the newly established newsletter.  Another significant event was the Conference 'Towards Efficient Roles of NGOs for Safeguarding ICH in the Asia-Pacific Region'' held in Korea, in June 2014, organized by ICHCAP, the Korea Cultural Heritage Foundation and the National Intangible Heritage Centre, with support of the Korean Government.
Finally, we wish to express our gratitude to States Party Indonesia, which has recently announced to start supporting the ICH NGO Forum Activities, which will help to build infrastructure and capacity. The ICH NGO Forum expresses its hope that other States Parties will follow in Indonesia's initiative.
We like to end with giving you a book that was presented yesterday. The publication 'Brokers, Facilitators and Mediation addresses Critical Success (F)Actors for the Safeguarding of Intangible Cultural Heritage', researchers and many accredited NGOs active in the ICH NGO Forum writing down their experience on this issue.
——- french version ——-
Monsieur le Président,
Nous vous remercions de donner la parole au Forum des ONG pour le PCI.
Nous sommes très heureux de présenter un rapport sur le colloque annuel du forum qui s'est tenu hier et qui s'inscrit dans le prolongement direct de la décision rendue par le Comité intergouvernemental, lors de sa réunion à Bakou (DÉCISION 8.COM 5.c.1), d'encourager les États parties à:
a. Promouvoir la participation accrue des ONG et des communautés dans le développement de politiques, législations, plans de sauvegarde et de développement durable (recommandation 2).
Hier, le forum des ONG a tenu son colloque annuel qui a connu une fréquentation exceptionnelle avec 95 participants provenant d'ONG, de communautés, de chercheurs, d'États parties et de Commissions nationales pour l'UNESCO originaires de plus de 38 pays à travers le monde.
L'idée de ce colloque était de revenir sur les réalisations des ONG dans quatre domaines importants et interdépendants de la sauvegarde du PCI : les politiques publiques, la législation, les mesures de sauvegarde et le développement durable, qui exigent tous une étroite collaboration entre les ONG et les États parties.
L'événement a associé des présentations avec un format interactif qui a facilité l'échange d'idées et le partage d'expériences, générant une énergie positive, favorable à l'expression de la diversité et à l'intégration. Le forum a franchi une nouvelle étape dans la promotion de la collaboration entre les décideurs des politiques publiques et les organisations de la société civile dans leur objectif commun de sauvegarder le PCI dans le monde. La journée a démontré qu'il existe des relations actives et dynamiques, de plus en plus développées, entre les ONG et les États parties. Le colloque a réuni un large éventail d'intervenants, favorisant la conscience de leur diversité et de celle du rôle qu'ils assurent en faveur des communautés.
La grande diversité de la communauté formée par les ONG est enrichissante et montre que la convention est mise en œuvre à différents niveaux ; elle reflète également les défis des ONG qui travaillent à des échelles très différentes. Le forum, ouvert à toutes les ONG, offre un cadre qui permet aux plus petites d'entre elles d'apporter une contribution précieuse à la convention.
Le forum se réunira tout au long de cette semaine pour discuter des sujets importants : réflexion sur des mécanismes simplifiés de partage des meilleures pratiques de sauvegarde, questions relatives à la soumission tous les quatre ans du rapport des ONG accréditées sur leurs activités, nouvel organe d'évaluation où le rôle des ONG est renforcé, rapports périodiques dans lesquels un rôle plus important des ONG est envisagé.
Vous pouvez suivre l'ensemble des activités du forum sur le site Web ichngoforum.org, dont la revue en ligne #heritagealive, une plate-forme permanente d'échanges de plusieurs groupes de travail, et le bulletin d'information récemment créé. Un autre événement important a été la conférence « Vers un rôle efficace des ONG pour la sauvegarde du PCI dans la région Asie-Pacifique » organisée en Corée en juin 2014 par ICHCAP, la Fondation du patrimoine culturel de Corée et le Centre national du patrimoine immatériel, avec le soutien de le gouvernement coréen.
Enfin, nous tenons à exprimer notre gratitude à l'Indonésie qui a récemment annoncé qu'elle allait soutenir les activités du Forum des ONG, ce qui l'aidera à construire infrastructures et compétences. Le Forum des ONG exprime l'espoir que d'autres États Parties suivront l'initiative de l'Indonésie.
Nous aimerions terminer en portant à votre connaissance un livre qui a été présenté hier : la publication « Intermédiaires, facilitateurs et médiation. (F)Acteurs-clés du succès dans la sauvegarde du patrimoine culturel immatériel », dans laquelle des chercheurs et de nombreuses ONG accréditées, actifs dans le Forum des ONG, ont écrit sur leur expérience dans ce domaine.