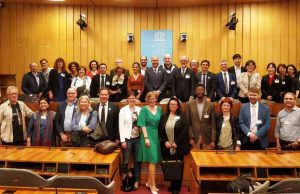 The Steering Committee of The ICH NGO Forum invite you to participate in ICH NGO Forum activities in Bogota – Colombia, 7 – 14th December 2019 at ICH Intergovernmental Committee Meetings each year, this year to be held in Bogota – Colombia, 9-14th December at 14.COM.
INVITATION
Dear colleagues,
as NGOs accredited to the 2003 Convention, you have received invitation to participate at 14.COM, which will be held in Bogota from 9 to 14 December 2019. We hope that you will be able to attend. 
Please take note that expenses incurred by participants are generally borne by your organizations. However, participation costs for representatives from accredited NGOs from developing countries, depending on the availability of resources, may be covered by the Fund for the Safeguarding of the Intangible Cultural Heritage. More information on that is available in the invitation letter that you have received.
When planning your trip to Bogota, please pay particular attention to ICH NGO Forum pre-14.COM events, scheduled for 7-8 December 2019. Please do not miss to arrive in Bogota two days in advance, and take an active part in our events. A preliminary programme is attached below.
Download the Preliminary programme.
A programme of our meetings for the whole week, including the General Meeting (General Assembly), meetings of our working groups and presentation of the new volume of #HeritageAlive, will be available soon.
A provisional French version of this letter and the preliminary programme, based on Google translate, please find below.
With best wishes,
members of ICH NGO Forum Steering Committee:
Jorge Gustavo Caicedo; Naila Ceribašić; Dong Hwan Choi; Kaloyan Nikolov; Meg Nömgard; Reme Sakr.
---
Chers collègues,
en tant qu'ONG accréditées auprès de la Convention de 2003, vous avez été invité à participer à 14.COM, qui se tiendra à Bogota du 9 au 14 décembre 2019. Nous espérons que vous pourrez y assister.
Veuillez prendre note que les dépenses engagées par les participants sont généralement supportées par vos organisations. Toutefois, les frais de participation des représentants d'ONG accréditées de pays en développement peuvent, selon la disponibilité des ressources, être couverts par le Fonds pour la sauvegarde du patrimoine culturel immatériel. Plus d'informations à ce sujet sont disponibles dans la lettre d'invitation que vous avez reçue.
Lors de la planification de votre voyage à Bogota, portez une attention particulière aux événements pré-14.COM organisés par le Forum des ONG du PCI, les 7 et 8 décembre 2019. Merci de ne pas manquer d'arriver à Bogota deux jours à l'avance et de participer activement à nos activités. événements. Un programme préliminaire est joint ci-dessous.
Téléchargez le programme préliminaire.
Un programme de nos réunions pour la semaine entière, y compris l'assemblée générale (Assemblée générale), les réunions de nos groupes de travail et la présentation du nouveau volume de #HeritageAlive, sera disponible sous peu.
Avec mes meilleurs voeux, membres du comité directeur du Forum des ONG du PCI:
Jorge Gustavo Caicedo; Naila Ceribašić; Dong Hwan Choi; Kaloyan Nikolov; Meg Nömgard; Reme Sakr.