Jeonju City (Republic of Korea) sets another milestone in the field of ICH safeguarding by enacting the "Jeonju International Awards for Promoting ICH". The awards are for the praise of those who have devoted themselves to the universal values of humanity transcending nation, ethnic, religion, or gender. Jeonju, a provincial city, wishes further for the awards to play a role for the harmony of the global community, the development of human culture, and the sustainable development for the future.
Opening this year for the first time, the awards had gained great positive feedback from around the world. Forty-eight applicants from thirty-six different countries applied for the awards, which was encouraging.
In the future, Jeonju will continue to honor those who have contributed to the safeguarding and transmission of ICH through this awards.
Awardees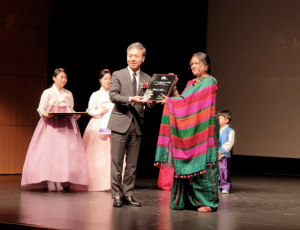 1) Contact Base, India
Contact Base is working domestically and internationally to safeguard the traditional art of India. Due to rapid changes in lifestyle of India, the skills in art and craft, traditional knowledge on nature are not recognized as employable skills in conventional developmental paradigm. To empower the tradition bearers to develop micro economies based on traditional art and craft skills, Contact Base is helping them with the initiative 'Art for Life.' Contact Base is accredited to the UNESCO 2003 ICH Committee (since 2010) and is in Special Consultative Status with UN ECOSOC (since 2013). It has partnership with UNWTO to promote responsible cultural tourism. Initiated in 2004, Art for Life has led to revitalization of 30+ art and craft traditions of eastern India and socio economically empowered 28000+ families of folk dancers, singers, theatre groups, storytellers, mat weavers and crafts persons. Contact Base is also working for collecting inventories and transmitting tradition. Contact Base has won the Bihar Innovation Forum II award (World Bank supported) for Art for Life model as a good practice in non-farm sector (2014) and UNWomen Mastercard Award for Best Community Outreach Project (2011).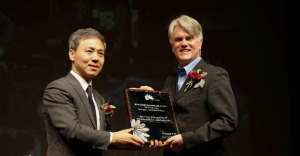 2) Heritage Foundation of Newfoundland and Labrador (HFNL), Canada
Newfoundland and Labrador is the easternmost province of Canada. It's a province with a rich intangible cultural heritage, with both indigenous populations, and a settler population of predominantly English/Irish ancestry. HFNL developed a variety of training programs and community-based workshops to introduce the concept of ICH and to provide practical training. Since then, HFNL has organized several festivals, coupled with work to inventory and promote ICH. In 2014, HFNL was accredited as an non-governmental organization by UNESCO (ITH/12/4.GA/6). The ICH Office at HFNL has achieved through policies that support initiatives to celebrate, record, disseminate and promote ICH and help to build bridges between diverse cultural groups within and outside Newfoundland and Labrador. One of its broad initiatives is the ICH Inventory, a repository of collected ethnographic material, including audio interviews, oral histories, video interviews, events and practices recordings, photographs, ephemera, and print materials, such as maps, drawings, architectural floor plans of vernacular buildings. HFLN has won the Manning Award for St. John's [HERE]SAY Project in recognition of excellence in the Public Presentation of Historic Places (2011). The ICH Office nominated Mummering to the Provincial Historic Commemorations Program (2011). It was nominated Traditional Games of Newfoundland and Labrador to the Provincial Historic Commemorations Program (2015). It has received an Honourable Mention for Canada's Governor General's History Award for Excellence in Community Programming (2018).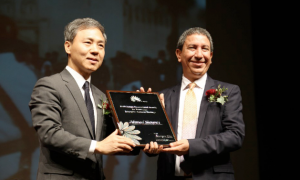 3) Ahmed Skounti, Morocco
Mr. Ahmed Skounti is a professor in Anthropology at the National Institute of Archaeology and Heritage Sciences (INSAP, Rabat, Morocco). He contributed to the drafting and adoption of the 2003 ICH Convention during the intergovernmental meetings in 2002 and 2003. He actively participated to the drafting of the Operational Directives of the Convention since 2006. He is a facilitator of the 2003 Convention since 2011. He is currently contributing to the UNESCO capacity-building programme in many countries, mainly in North Africa, Subsaharan Africa and the Middle East. He assists some of the States Parties in this region with designing policies in the field of the intangible cultural heritage (Morocco, Sudan and Tunisia). He is contributing a lot to the development and sustainability of ICH on the regional level and on the international level.