It is with great sadness that we announce the loss of Séraphin Boute Bo Iyeli Ngangeli, a member of the ICH NGO Forum Steering Committee, and Director of Programmes, Studies and Cultural activities of the "Global Development for Pygmee Minorities" (GLODEPM) NGO in Kinshasa, the Democratic Republic of the Congo.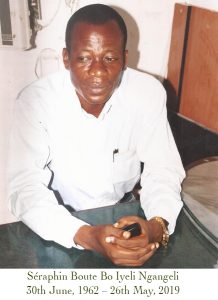 After completing his university studies in French and African linguistics in Kinshasa and Mbandaka, followed by training in human rights and rights of indigenous peoples, Séraphin showed an admirable commitment to the safeguarding of ICH in his home at Équateur Province in the Democratic Republic of Congo, after which he joined GLODEPM, an NGO dedicated to identifying, inventorying, safeguarding and promoting various ICH domains and elements of the Pygmee minorities. The ICH NGO Forum will particularly remember Séraphin through his participation at GA and COM sessions, starting with his participation at 5.COM held in 2010 in Nairobi, which to him personally acted as a trigger to deepen his commitment to safeguarding the ICH of communities at the national and international levels, and significantly advancing the work of GLODEPM and its impact on communities.
In 2018, Séraphin was successfully elected by the ICH NGO Forum to become a member of the Steering Committee, as the African region representative, during which he was able to enrich the work and insight of the Committee, and that of his colleagues, although his time in the Steering Committee was cut short.
On behalf of the ICH NGO Forum, we send our deepest sympathies to Séraphin's family and friends, and hope they find comfort following their great loss. Séraphin was put to rest on June 8th, 2019 in Kinshasa.
Séraphin Boute Bo Iyeli Ngangeli
30th June, 1962 – 26th May, 2019