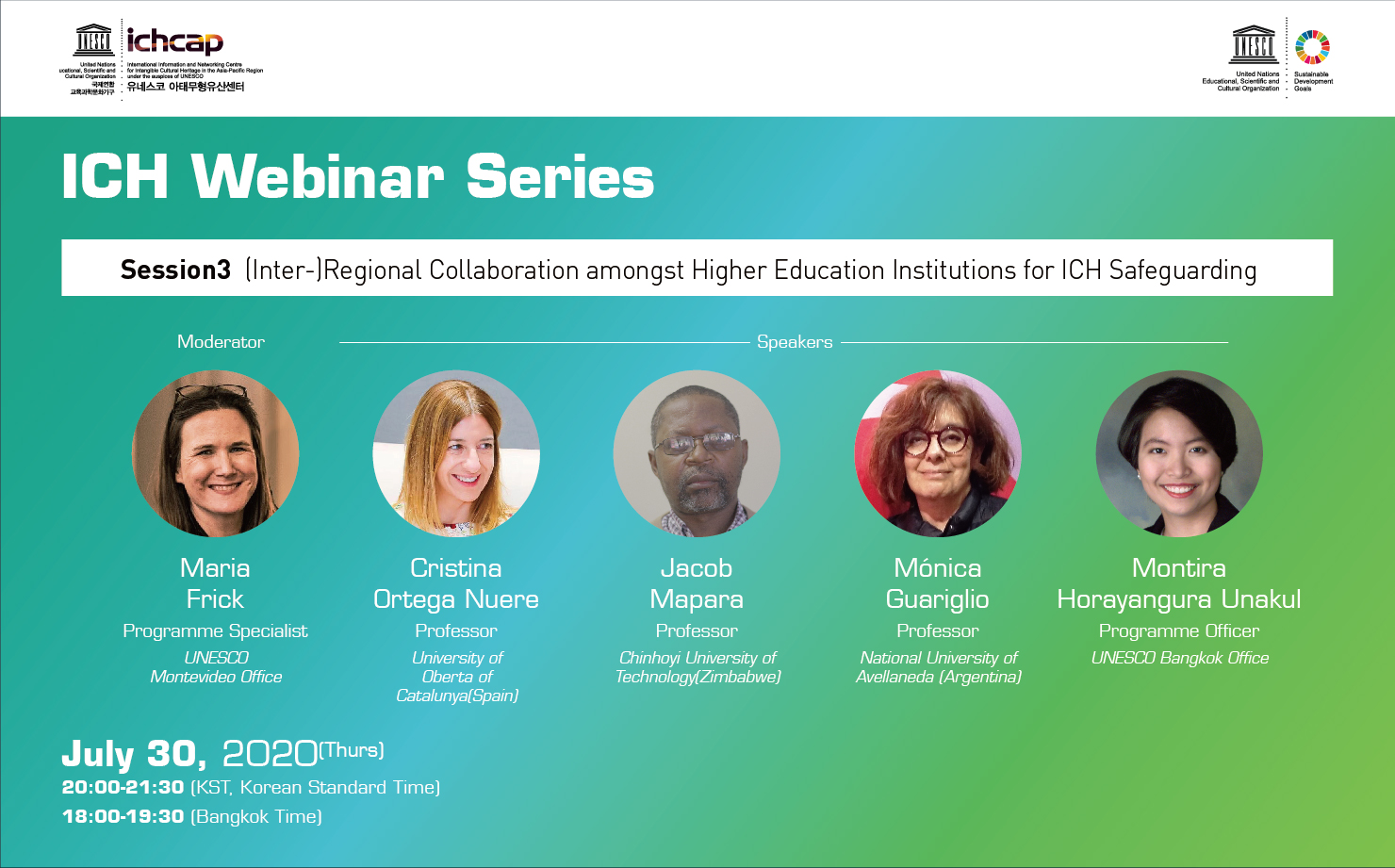 Co-organised by the International Information and Networking Centre for Intangible Cultural Heritage in the Asia-Pacific Region under the auspices of UNESCO (ICHCAP) and UNESCO Office in Bangkok, the ICH Webinar Series features experts in the ICH field and is open to the public.
The ICH Webinar Series Session 3 is now open for registration. Interested parties should register through this link. To be held on 30 July 2020 at 20:00 to 21:30 (Korean Standard Time), the third session will attempt to examine the state of networking activities in different regions around the world, how higher education networks were formed, how they operate and contribute to research and teaching about ICH, its safeguarding and transmission.
Networking initiatives in Europe, Africa, Latin America, and the Asia-Pacific will be discussed by Dr. Christina Ortega Nuere (Former President of the European Network on Cultural Management and Policy), Dr. Jacob Mapara (Professor, Chinhoyi University of Technology), Prof. Mónica Guariglio (Coordinator, Network of Academic Cooperation in ICH of Latin America and the Caribbean) and Dr. Montira Horayangura Unakul (Cultural Officer, UNESCO Bangkok Office), respectively. For more information, you are invited to read this article on the session.
For free and continuous dissemination of relevant information on ICH in the Asia-Pacific region, a record of the webinar series is made available for public viewership. Please visit this webpage for consolidated information about the ICH Webinar Series.