(French version follows / La version française suit)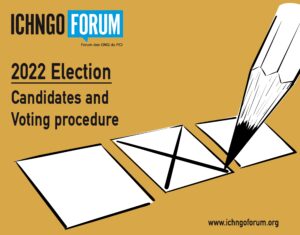 Dear members of the ICH NGO Forum,
The Electoral Board is pleased to present the list of the eligible candidates for the 2022 elections of the Intangible Cultural Heritage NGO Forum Executive Board, for the following seats : Western Europe and North America (Group I), Asia-Pacific (Group IV), and International NGOs. We would like to thank all the candidates for their interest and participation.
Candidates will be allotted a 10 minute period to present themselves and their NGOs, as well as the contribution they wish to make to the Executive Board, during a meeting scheduled with the members of the Forum on Monday 28 November between 6:00 pm and 8:00 pm in a section reserved for the NGOs located in the Ballroom of the Sofitel Hotel in Rabat. The session will be chaired by the members of the Electoral Board.
Presentations will be accessible through Zoom, recorded and made available on the Forum Website and Youtube Channel.
The ICH NGO Forum will hold elections online, by secret ballot, between 8:00 pm Monday 28 November and 11:00 am on Wednesday 30 November 2022. The ballot will be sent by email to the person with signing authority for the accredited NGO. We remind you that there is only one vote per NGO and that each NGO can only vote for one candidate per region. Otherwise, the vote will be canceled.
The candidate's files (application form and CV) are available on a Google Drive, at the following address:
https://drive.google.com/drive/folders/1K7vnEhh9O_xwDYLxV2EvIgWuwiDfDoG6
We invite you to examine them in preparation for the elections.
We thank all candidates for their participation and we look forward to meeting you all in person or online in Rabat.
With our best regards,
The Electoral Board
Adel Moussa, Nubian Heritage Society (Arab States)
Diana Teresa Gutiérrez, Embodying Reconciliation (Latin America and Caribbean)
Sandrine Moughola, ADACO (Africa)
LIST OF ELIGIBLE CANDIDATES
2022 ELECTIONS – EXECUTIVE BOARD OF THE ICH NGO FORUM
Western Europe and North America (Group I) (two year term)
1) Matti HAKAMÄKI
Finnish Folk Music Institute (Finland)
2) Jimmy DI GENOVA
Centre d'interprétation de la culture traditionnelle Marius Barbeau (Canada)
ASIA – PACIFIC (Group IV) (two-year term)
1) Pranav CHENDKE
Shree HVPM (India)
2) Gang ZHU
China Folklore Sociéty (China)
3) Cholponai USUBALIEVA- GRYSHCHUK
Aigine Cultural Research Center, (Kirghizistan)
4) Gaura MANCACARITADIPURA
Indonesia National Kris Secretariat (SNKI)
INTERNATIONAL (two-year term)
1) Patrizia CIMBERIO
International Association for Falconry and Conservation of Birds of Prey (IAF)
2) Robert BARON
International Society for Ethnology and Folklore (SIEF)
---
Élection du Forum des ONG du PCI
Candidats et procédure de vote
Chers membres du Forum des ONG-PCI,
Le Conseil électoral est heureux de présenter la liste des candidats éligibles aux élections 2022 du Conseil exécutif du Forum des ONG en patrimoine culturel immatériel pour les régions suivantes: Europe de l'ouest et Amérique du Nord (groupe I), Asie-Pacifique (groupe IV), et ONG internationale. Nous souhaitons remercier tous les candidats pour leur intérêt et pour leur participation.
Les candidats disposeront de 10 minutes pour se présenter et présenter leur ONG, ainsi que la contribution qu'ils souhaitent apporter au Bureau exécutif, lors d'une réunion prévue avec les membres du Forum le lundi 28 novembre entre 18h00 et 20h00dans une section réservée aux ONG située dans la salle de Bal de l'hôtel Sofitel à Rabat.
La séance sera présidée par les membres du Conseil électoral. Les présentations seront accessibles via Zoom, enregistrées et mises à disposition sur le site Web du Forum et la chaîne Youtube.
Le Forum des ONG du PCI organisera le vote en ligne, au scrutin secret, entre le lundi 28 novembre 20h00 et le mercredi 30 novembre 2022 à 11h00. Le bulletin de vote sera envoyé par e-mail à la personne ayant le pouvoir de signature pour l'ONG accréditée. Nous vous rappelons qu'il n'y a qu'un vote par ONG et que chaque ONG ne peut voter que pour un candidat par région. Sinon, le vote sera annulé.
Les dossiers des candidats (dossier de candidature et CV) sont disponibles sur un Google Drive, à l'adresse suivante:
https://drive.google.com/drive/folders/1K7vnEhh9O_xwDYLxV2EvIgWuwiDfDoG6
Nous vous invitons à les examiner en vue des élections.
Nous remercions tous les candidats pour leur participation et nous nous réjouissons de vous rencontrer tous en personne ou en ligne à Rabat.
Avec nos cordiales salutations,
Les membres du Conseil électoral,
Adel Moussa, Nubian Heritage Society (États arabes)
Diana Teresa Gutiérrez, Embodying Reconciliation (Amérique latine et Caraïbe)
Sandrine Moughola, ADACO (Afrique)
LISTE DES CANDIDATS ÉLIGIBLES
ELECTIONS 2022 – CONSEIL EXÉCUTIF DU FORUM DES ONG DU PCI
Europe de l'Ouest et Amérique du Nord (Groupe I) (mandat de deux ans)
1) Matti HAKAMÄKI
Finnish Folk Music Institute (Finlande)
2)  Jimmy DI GENOVA
Centre d'interprétation de la culture traditionnelle Marius Barbeau (Canada)
ASIE – PACIFIQUE (Groupe IV) (mandat de deux ans)
1) Pranav CHENDKE
Shree HVPM (Inde)
2) Gang ZHU
China Folklore Sociéty (Chine)
3) Cholponai USUBALIEVA- GRYSHCHUK
Aigine Cultural Research Center, (Kirghizistan)
4) Gaura MANCACARITADIPURA
Indonesia National Kris Secretariat (SNKI) (Indonésie)
INTERNATIONAL (mandat de deux ans)
1) Patrizia CIMBERIO
International Association for Falconry and Conservation of Birds of Prey (IAF)
2) Robert BARON
International Society for Ethnology and Folklore (SIEF)