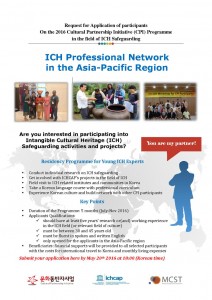 The Cultural Partnership Initiative (CPI) Program aims to enhance international exchange in the field of ICH safeguarding through inviting young professionals from the Asia-Pacific region. ICHCAP has been operating the CPI Program under the support of the Ministry of Culture, Sports and Tourism of the Republic of Korea (MCST) and the CPI Secretariat (the Korea Culture and Tourism Institute) for the past three years (2012 to 2014). ICHCAP is looking forward to meetingfournew participants in this year's initiative.
ICHCAP, as a UNESCO Category 2 Centre in the ICH field, contributes to building ICH networks mainlyat the regional level to help implement the 2003 Convention more effectively.
The objectives of ICHCAP, as a specialized information and networkingcenter, are to:
promote the UNESCO 2003 Convention for Safeguarding of the Intangible Cultural Heritage and contribute to its implementation in the Asia-Pacific region;
increase the participation of communities, groups, and individuals in safeguarding ICH and raise awareness of and ensure respect for ICH in the Asia-Pacific region;
enhance the capacity for safeguarding ICH through the coordination and dissemination of information;
foster regional and international cooperation for ICH safeguarding.
The key objective of ICHCAP's CPI program is to strengthen regional network among ICH experts. So the main objectives are to:
strengthen participants' abilities in ICH safeguarding by providing them opportunities to participate in various projects-individual research, ICHCAP project participation, field trips, and a workshop);
contribute to building networks in the field of ICH safeguarding in the Asia-Pacific region and expand collaborative opportunities in partnership with ICH-related organizations.
APPLICATION AND DEADLINE
–    Applications can be submitted by e-mail at cpiichcap@gmail.com
–    The deadline for applications is 20th May 2016, 18:00 (Korean Standard Time).
For further informations: Call for Applications 2016