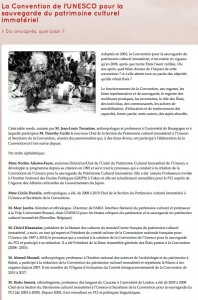 The program of the round-table "The UNESCO Convention for the Safeguarding of the Intangible Cultural Heritage – Ten years later, what results?" that will take place at Maison des Cultures du Monde on 29th of May, 4-6 pm (in french, no translation).
The round table, moderated by Mr Jean-Louis Tornatore, anthropologist and professor at the University of Burgundy and with the participation of  Mr Timothy Curtis the new Chief of the Section of Intangible Cultural Heritage at Unesco and Secretary of the Convention, bring together people who, for various reasons, have participated in the elaboration of the Convention and have followed since.
With the partecipation of: Mrs Noriko Aikawa-Faure, Mrs Cécile Duvelle, Mr  Marc Jacobs,  Mr Chérif Khaznadar, Mr Ahmed Skounti and Mr Rieks Smeets.
For further informations: www.maisondesculturesdumonde.org/actualite/la-convention-de-lunesco-pour-la-sauvegarde-du-patrimoine-culturel-immateriel.