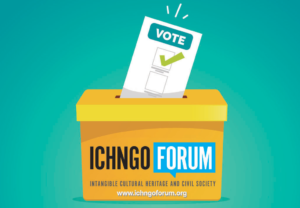 Only for accredited ngos
Dear NGO,
Could the person designated to vote in your NGO please complete the voter registration form as soon as possible and no later than November 28th at noon (CET, UTC +1).
We remind you that there is only one vote per NGO and that each NGO can vote only for one candidate per region. Otherwise the vote will be canceled.
We are requesting pre-registration to vote this because we sometimes have two of three email addresses for NGOs.
In the past, this situation has led to more than one person from the same NGO voting and a cancellation of the ballot, something we would like to avoid this year.
The Electoral Board
---
Uniquement pour les ONG accréditées

Inscrivez votre email pour les élections du Forum des ONG du PCI 2022
Chère ONG,
La personne désignée pour voter dans votre ONG pourrait-elle remplir le formulaire d'inscription des électeurs dès que possible et au plus tard le lundi 28 novembre midi (CET, UTC +1).
Nous vous rappelons qu'il n'y a qu'un seul vote par ONG et que chaque ONG ne peut voter que pour un seul candidat par région. Sinon, le vote sera annulé.
Nous demandons une pré-inscription pour voter car nous avons parfois deux ou trois adresses e-mail pour les ONG. Cette situation a conduit, dans le passé, à plus d'une personne d'une même ONG à voter et à une annulation du scrutin, ce que nous aimerions éviter cette année.
Le Conseil électoral