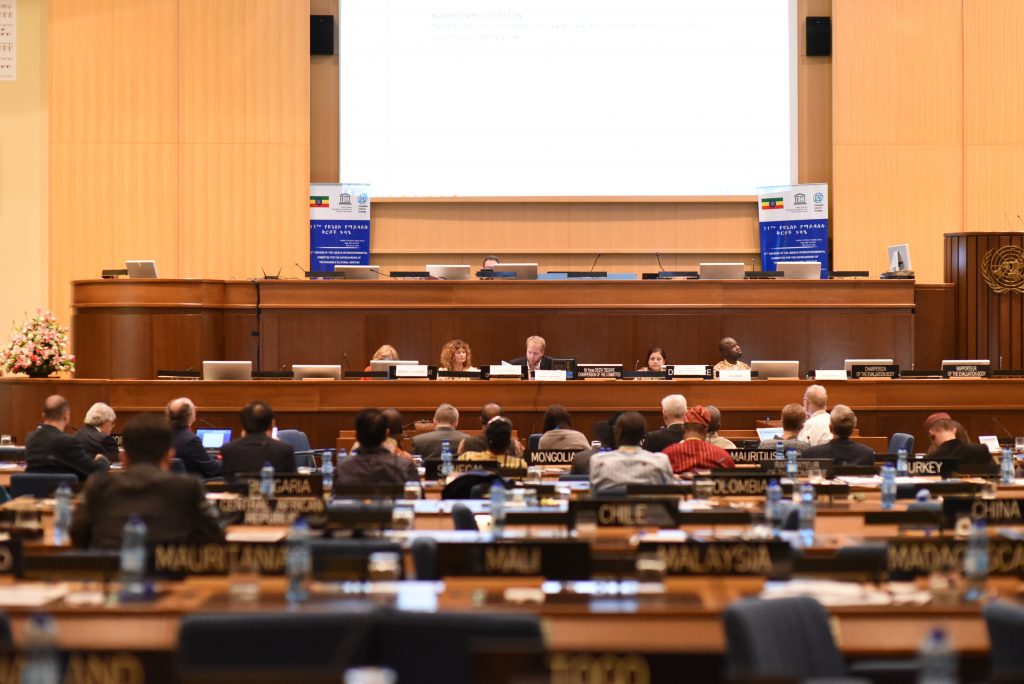 Report on activities by Steering Committee

The proposal was developed in 2015 to work with a Steering Committee starting from 10COM (November 2015).
The aim of the Steering Committee is to have a group of people from active accredited ICH NGOs willing to take the Forum forward in the coming years in the roles and functions as decided by the ICH NGOs taking part in the Forum's activities and network worldwide.
The ROLE of the steering committee is to represent the Forum and coordinate, encourage, facilitate and support the 9 roles and functions.
Another role for this 1st temporary Steering Committee (2 years) consists in preparing representative and legitimate (s)election procedures by 2017 with regard to the future coordination of the Forum based on a 4 years cycle.
The first Steering Committee is adopted for a period of 2 years, and composed along to the following criteria:
– being member of an accredited ICH NGO
– as a person being appointed to represent this NGO (by this organization)

– having availability, skills and experience within the 2003 Convention
– having been actively involved in the past in the ICH NGO Forum's activities

– being able to engage to be present twice a year to attend the meetings
– furthermore the Forum strives for a diversity in geography, gender as well as within the ICH themes/expertise
The 1st ICH NGO FORUM Steering Committee is composed of:
Carmen Padilla (IOV / International / Asia)
Ananya Bhattacharya (Banglanatak dot com / India / Asia)
Ki Léonce (Asama / Burkina Faso/ Africa)
Diego Gradis (Traditions pour demain / International / Latin America)
Antoine Gauthier (CQPV Conseil Québecois du Patrimoine Vivant/ Northern Americas)
Magdalena Tovornik (CIOFF / International / E-Europe)
Jorijn Neyrinck (Tapis Plein / NW-Europe)
Joanne Orr (Museums Galleries / Scotland)
+ Gabriele Desiderio (UNPLI / Italy) – Webmaster of the ICH NGO Forum
+ constant follow up with Working Group coordinators (see below)
During its first year SC set up active programme to take the Forum's activities forward:
monthly Skype meetings + live meetings at the IGC and GA sessions;
communicates and consults regularly with the 2003 Convention Secretariat;
> every three to 6 months: meeting with ICH SECTION Secretariat in Paris
made a review of ICH NGO Forum communication
(website, NGO database, newsletter, social media) and takes it forward in development;
we are working on developing an online DATABASE on ICH NGOs and their activities
in coordination with UNESCO => complementary information to UNESCO website on NGOs
serves as a first contact point for questions and information requests,
for supporting communication of activities, information sharing, coaching.
SC contributions in several internationally invited occasions:
Italy, ICHCAP NGO Conference.
administers on a daily basis issues of governance, funding, etc for the Forum;
preparing program and organization of the 11. COM ICH NGO Forum SYMPOSIUM
working on a global CAPACITY BUILDING PROGRAM for the ICH NGO Forum
Making efforts towards REGIONAL NETWORKING development of accredited ICH NGOs = regional cooperation and actions
To be taken forward:
organization Forum > see next part on Agenda of this meeting
make further efforts to have English-French interpretation for all Forum activities
make further efforts for funding
foster the Working Groups in realizing concrete actions
encourage applications (of participants of developing countries)
to the UNESCO 2003 FUND for taking part to the UNESCO 2003 Meetings
And questions?
How can we take ethical principles further
ICH NGOs and Sustainable Development (Goals – SDG UN Agenda 2030)
Report on activities by WORKING GROUPS
#HeritageAlive, by editor in chief Eivind Falk – (download the presentation)
Research, by coordinator Albert Van Der Zeijden (apologized)
Capacity Building, by coordinator Marit Stranden
The idea of a working group on capacity building came up during discussions at the ICH NGO meetings during 10COM, of which the NGO the Norwegian Centre for Traditional Music and Dance, Marit Stranden, was suggested as secretary.2. An initial meeting took place during a lunch break with 7 interested NGOs signing up for the working group. There was a challenge of lack of French translation, which excluded one NGO. The Minutes was shared with the whole NGO network, inviting other interested NGOs to register.3.    The working group should continue discussion in a skype meeting. This has not been carried out. The next meeting of the group is scheduled THURSDAY 1 December 1.30 – 2.30 p.m. at 11COM.4.    As secretary of the group, requests have been received on capacity building from Namibia and Ghana.5.    The NGO Tapis Plein, Jorijn Neyrinck, has volunteered to collaborate on coordinating the working group, including French translations in the working group. There are discussions going on between the Steering committee with the UNESCO secretariat following up the idea building regional capacity workshops with by UNESCO facilitators, which might start up as a global workshop before dividing into regional workshops. There are limitations on funding.
Presentation  on NGO activities in Asia-Pacific ICHCAP
report by Ananya Bhattacharya on behalf of ICHCAP – (download the presentation)
Proposals for ICH NGO Forum future development and organizational structure
(for 12COM /2017 onwards)
– discussion (taking place throughout week of 28 November – 2 December)
– validation by participants (on 1st December)
See validated document on :
https://www.ichngoforum.org/ich-ngo-forum-steering-committee-rules-procedures/
STATEMENT 11.COM – ICH NGO FORUM
– draft proposal
– comments and suggestions (taking place throughout week of 28 November – 2 December)
– validation by participants (on 1st December)
See validated document on :
https://www.ichngoforum.org/wp-content/uploads/2016/12/11COM-ICH-NGO-Forum-STATEMENT-11COM-ENGLISH-1.pdf