(Voir la version française ci-dessous)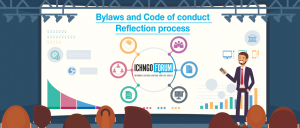 Dear colleagues,
for the last couple of months the working group (Robert Baron, Naila Ceribašić and Antoine Gauthier) and the Steering Committee have worked on elaborating the ICH NGO Forum Bylaws and Code of conduct. Please find their finalized drafts here:
Please examine the documents and send us your feedback (comments and/or suggestions for revisions) by 23 November on our email: ichngoforum@gmail.com.
The final discussion on the documents improved thanks to your feedback will take place in Bogota on Sunday, 8 December, 3-4:30 p.m., and, if needed, on Tuesday, 10 December, 6-7:30 p.m., while the adoption of their final version will take place at the General Meeting of the ICH NGO Forum on Wednesday, 11 December, 6-7:30 p.m.
Thanks in advance for participating in the reflection process.
Currently, the documents are only in English, as none of the members of the Steering Committee is so proficient in French to make an accurate translation (for an approximate translation you may use Google translate, same as we done in the case of this letter).  We hope that some of you, native or proficient French speakers, will volunteer as translators.
With best regards,
members of the ICH NGO Forum Steering Committe
Jorge Gustavo Caicedo
Naila Ceribašić
Dong Hwan Choi
Kaloyan Nikolov
Meg Nömgård
Reme Sakr
---
Projets de statuts et de code de conduite du Forum des ONG du PCI – processus de réflexion
Chers collègues,
Au cours des derniers mois, le groupe de travail (Robert Baron, Naila Ceribašić et Antoine Gauthier) et le comité de pilotage ont travaillé à l'élaboration des statuts et du code de conduite du Forum des ONG sur le PCI. Veuillez trouver leurs projets finalisés ici:
Veuillez examiner les documents et nous envoyer vos commentaires (commentaires et / ou suggestions de révision) avant le 23 novembre sur notre courrier électronique: ichngoforum@gmail.com.
La discussion finale sur les documents améliorée grâce à vos commentaires aura lieu à Bogota le dimanche 8 décembre de 15h à 16h30 et, si nécessaire, le mardi 10 décembre de 18h à 19h30, le temps de l'adoption de leur version finale aura lieu lors de la réunion générale du Forum des ONG du PCI, le mercredi 11 décembre, de 18 h à 19 h 30.
Merci d'avance de participer au processus de réflexion.
Actuellement, les documents sont uniquement en anglais, car aucun des membres du comité de pilotage ne maîtrise suffisamment le français pour faire une traduction précise (pour une traduction approximative, vous pouvez utiliser Google Translate, comme nous l'avons fait dans le cas de cette lettre). Nous espérons que certains d'entre vous, francophones ou francophones expérimentés, se porteront volontaires comme traducteurs.
Meilleures salutations,
membres du comité directeur du forum des ONG sur le PCI
Jorge Gustavo Caicedo
Naila Ceribašić
Dong Hwan Choi
Kaloyan Nikolov
Meg Nömgård
Reme Sakr