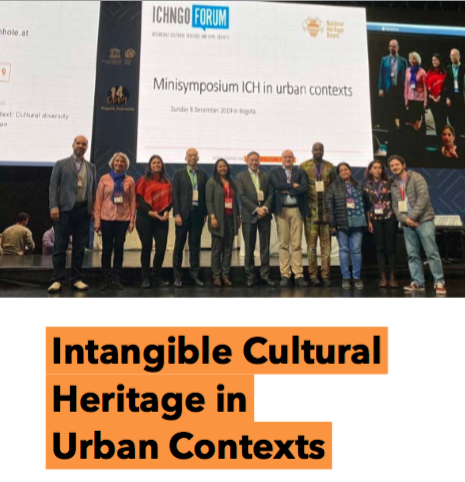 On Sunday, 8 December 2019 the ICH-NGO Forum organized the symposium Intangible Cultural Heritage in Urban Contexts. The presentations were published in a soft publication pdf, that is available on this website.
Download the pdf file from here.
Recurring themes
Four themes keep recurring in this publication:
ICH-Urban policies: two articles refer directly to the actions undertaken by the State to safeguard ICH in urban contexts: Colombia and Singapore.
ICH-Urban realities: two articles describe the situation of ICH in two specific urban contexts: Kathmandu and Dhaka.
ICH-Urban experiences: The articles about Kolkata and Bamako describe many experiences to safeguard ICH in these two cities. It's not about state policies but about community initiatives.
ICH-Urban migrants: two articles are about the situations of migrants in cities and how they managed to safeguard their ICH: Paris and Arnhem.
Table of contents
Introduction, by Albert van der Zeijden, Yeo Kirk Siang and Gerald Wee
Juliana Forero & Andres Forero, ICH in Urban Contexts Program in Colombia: Living Culture, Identity and Collective Knowledge for the Transformation of Colombian Cities
Yeo Kirk Siang, Safeguarding of Intangible Cultural Heritage In Urban Context: Experiences From Singapore
Monalisa Maharjan, Traditional Practices, Ancient Settlements and the Urbanization: The Case of Kathmandu Valley

Saifur Rashid, Intangible Cultural Heritage, Urban Space and Social Cohesion: The Case of Dhaka City in Bangladesh
Ananya Bhattacharya, Reimagining Kolkata

Sekou Berte, Intangible Cultural Heritage in Urban Contexts: The Case of the Bamako and its Backdrop Country Side

Frida Calderón Bony, The Intangible Cultural Heritage of Migrants: The work of Île du Monde Association in Paris
Mark Schep, Safeguarding Travelling Intangible Cultural Heritage: The Case of Hindustani ICH in Arnhem