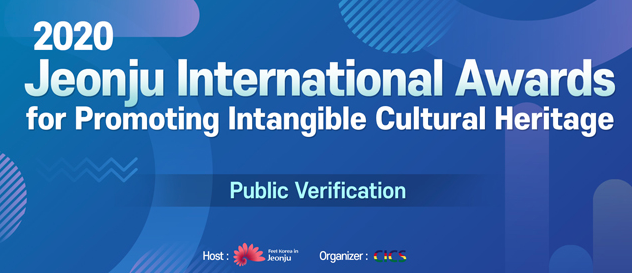 The selection process was very challenging as all applicants demonstrated good practices for the safeguarding ICH with courage and lofty spirit. Only three applicants (individuals and organizations) were selected as finalists from thirty-nine applicants from 27 countries on six continents.
Jeonju City announces the following three finalist candidates for public verification as the final process for the 2020 Jeonju International Awards for Promoting Intangible Cultural Heritage. The finalist candidates are as follows:
– Vu Duc Hieu (Individual, Vietnam, Asia-Pacific Region)
– Impacto (Organization, Mexico, Latin America)
– Asama (Organization, Burkina Faso, Africa)
The public verification process allows for verification of whether the finalists:
1. Cause any controversy internationally or domestically.
2. Are/were involved in any conflict or dispute internationally or domestically.
The public verification process will take place from June 15 to July 15, 2020 on jiapich.org (2020 JIAPICH Homepage), ichngoforum.org (NGOs accredited by UNESCO), jeonju.go.kr (Jeonju City), and ichngo.net (UNESCO Accredited ICH NGO).
On July 15, 2020, the final awards recipients will be publicly announced through the above mentioned websites.