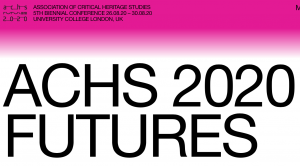 The Fifth Biennial Conference of the Association of Critical Heritage Studies (ACHS) will be held at University College London in the Summer of 2020 (from 26 to 30 August).
The conference's theme – Futures – aims to engage seriously and critically with the often stated aims of heritage to address the concerns of future generations, whilst also asking participants to think expansively and creatively about the future of critical heritage studies as an emergent field of focus across a range of academic disciplines.
The local conference organising committee has identified a series of sub-themes which will represent distinct threads through the conference, and session organisers and paper proposers are asked to select one of these sub-themes when they submit their proposals.
THESE SUB-THEMES ARE AS FOLLOWS:
Arts and Creative Practice
Future Policies and Politics of Heritage
Environmental Change and the Anthropocene
Digital Futures in and for Heritage
Folklore and Intangible Cultural Heritages
Heritage and Foodways
Conflict heritage and conflicted heritages
Urban heritage futures
Future Methods and Approaches to Critical Heritage Studies
Future Landscapes of Heritage
The Future Museum: Collections and Collecting
Heritage and time
The Futures of Heritage
Mobilities and Migration
Open Sub-theme
Organised by the UCL Institute of Archaeology in association with the Arts and Humanities Research Council (AHRC) Heritage Priority Area and the Association of Critical Heritage Studies. For further information visit the conference's website.