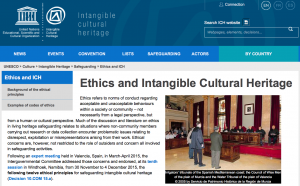 Discover the new page on Ethics and ICH  on the website of the UNESCO 2003 Convention.
On these pages, you will find:
the 12 ethical principles for the safeguarding of ICH endorsed by the  Intergovernemental Committee of the 2003 Convention (in 6 languages);
background information on ethics and on the elaboration process of the principles;
examples of codes of ethics and professional codes of conduct in the cultural sector.
If any NGO has examples of codes of ethics they developed or they use in their Intangible Cultural Heritage related work (addressing ICH in general, specific domains or elements), they are invited to share those with the ICH Section of the UNESCO Secretariat. If suitable, the Secretariat could add some of them to the section "Examples of codes of ethics and professionals codes of conduct".
More generally, at 10.COM the Committee invited accredited non-governmental organizations to participate in enriching, sharing information, following-up, and contributing to update the proposed online platform with tools of ethics for safeguarding intangible cultural heritage (decision 15.a §9).
Following this invitation, the ICH NGO Forum calls for sincere commitment to contribute in the development of tools and experiences of ethics for safeguarding ICH.
If you have any more suggestion or proposal relating to ICH and ETHICS, please write to ichngoforum@gmail.com.
---
Background:
Following an expert meeting held in Valencia, Spain, in March-April 2015, the Intergovernmental Committee addressed those concerns and endorsed, at its tenth session in Windhoek, Namibia, from 30 November to 4 December 2015, the following twelve ethical principles for safeguarding intangible cultural heritage (Decision 10.COM 15.a).
The 2015 ICH NGO Forum Symposium held in Windhoek, Namibia, on the 29th November 2015, was entitled "Towards a code of Ethics for ICH NGO's?" (see the program). The Forum intended to make a contribution to the international reflection on the 2003 Convention in its relation to ethical questions on different levels. Key insights of the Symposium into this very complex area were that dialogue and communication is a crucial approach to the international field. Challenges tend to be dealt with on a case by case basis, with awareness of the communities, groups and individuals as primary actors in ICH, and the importance of contextualisation and culturally diverse ethics. Proposals were made for the NGO Forum to focus on the question of governance and on principles of equity. This will be taken forward in the coming year. (find the presentations here).