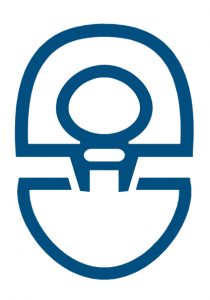 Visiting Accredited Ngos for Establishing Network
As the Cultural Research Foundation – CRF (Kültürel Araştırmalar Vakfı- KAV), we have been working in the fields of culinary culture, traditional toys, rituals and handicrafts since 2002. This year, we worked to establish an international network with NGOs accredited by UNESCO. Our aim was to create an opportunity to dialogue and develop mutual cooperation with a participatory approach with the these NGOs.
Within the scope of the study supported by the Sivildüşün Programme of European Union, between April 24 and May 2, our experts Nihal Kadıoğlu Çevik and Ayşe Ceren Göğüş visited accredited NGOs in Italy, Spain and France. In Italy, the Italian Geographical Society (Societa Geografica Italiana ONLUS), in Spain the Ens de l'Association of Cultural Catalan and the IPACIM (Institut del Patrimoni Cultural Immaterial) and in France COMITE COLBERT. They met with NGO's representatives. And they visited to related museums.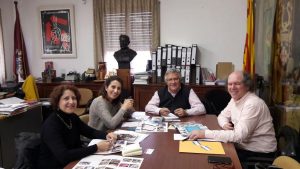 In this study; We learned about the impact of non-governmental organizations working in the field of documenting and preserving intangible cultural heritage in society. And we had information the NGOs relationships with to official institutions. In order to increase the effectiveness of civil society organizations in the UNESCO, we have gained experience in establishing an effective network.
We exchanged information on the methods of carrying out intangible cultural heritage inventories with these NGOs and on the protection processes. We have become more familiar with the organizational structures of these institutions. We had the opportunity to examine the institutions' archives, libraries, publications and collections. These reviews and observations provided important contributions to our work.
This work has helped us understand new approaches and different perspectives.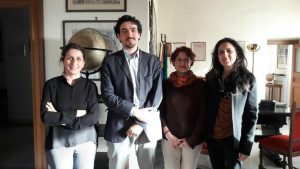 So we got an important experience of being able to look at our own inheritance from different angles. We had fruitful preliminary talks with relevant NGOs on issues that we could cooperate in the future.
Again within this program; We have had a meeting with Ambassador Faruk Kaymakci, our Permanent Representative of the European Union in Brussels on the development of networking efforts. We thank our respects.
We would like to thank which the Sivildüşün Programme of European Union for supporting this work.
Special thanks to Alessandro Ricci, Silvia Barbarotta, Patrizia Pampana, Josep Viana Crespo, Lluis Garcia Petit and Valerie Sandoz for their kind hospitality and hearty information exchange.
Nihal Kadıoğlu ÇEVİK
Cultural Research Foundation
Culinary Research Program Coordinator