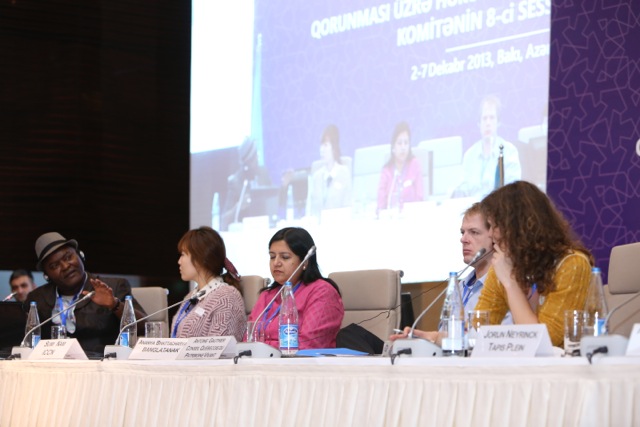 "Challenges for NGOs in the promotion of ICH values"
5th ICH NGO Forum Symposium – Addis Ababa, Ethiopia – November 27, 2016
Description of the Symposium

Since 2012, the ICH NGO forum organizes a thematic Symposium on the eve of the annual Session of the Intergovernmental Committee for the UNESCO Convention for the Safeguarding of Intangible Cultural Heritage.
The Symposium's main objectives are sharing information, exchanging on good safeguarding practices and international initiatives, networking between the representatives of NGOs and State Parties, and the welcoming and integration of newly accredited NGO delegates.
The symposium provides an opportunity to foster dialogue among ICH NGOs on how their work is aligned with the values of ICH, particularly those put forward by the Operational Directives on Sustainable Development.
The theme of the 2016 Symposium at Addis Ababa, Ethiopia, is 'Challenges for NGOs in the Promotion of ICH Values'. The UNESCO 2003 Convention introduced several directives, ethical principles, and documents to address the challenges linked to cultural activity and the management of ICH around the world. The event will be an opportunity to address the different challenges related to safeguarding, with a view to strengthening socio-cultural capacity building, respect for the environment and, above all, inclusive economic opportunities.
A keynote speaker will open the Symposium by introducing the theme, followed by contributions of three representatives of accredited ICH NGOs, which are to be selected through the open call for presentations, launched here.

The ICH NGO representatives are expected to discuss on the symposium's theme and provide a presentation on a specific challenge.

The members of the Steering Committee of the Forum will make a selection within all received proposals.
The call for contributions is hereby circulated:
The themes for presentations may include:
• Application of ethical principles at national level for ensuring that ICH communities and groups are at the very center of all safeguarding efforts;
• The contribution (or not) of inventories in ICH safeguarding;
• The challenge of collecting data to understand the contribution of culture and ICH in the context of 17 objectives of the sustainable devlopment (UN);
• Professionalisation of traditional cultural skills and its impacts;
• Traditional knowledge and techniques as cultural assets for fostering employment, cultural industries, and the knowledge economy;
• Cultural tourism as an approach for inclusive economic development;
• Protection of rights on county of origin, tourism, intellectual property and geographical identity of cultural products and services;
• The role of the image in safeguarding using photography, video, and the internet: stereotypes vs promotion.
Send your proposal to ichngoforum@gmail.com
max. 300 words,
by October 15, 2016
> A short session is also planned on the topic of ICH safeguarding and protection in the case of armed conflict – a newly included concern in the 2003 Convention's framework.
> We hope to organise a French-English interpretation service during the event.
Preliminary programme

Morning Session: ICH NGO Forum annual Plenary Meeting
• Welcoming meeting
• Presentation of the Forum and related projects
• Discussion
Afternoon Session: SYMPOSIUM
• Keynote Speech (20 min)
• Three NGO representatives (10 min. each)
• Floor discussion
Coffee break
• Protecting ICH in the case of armed conflict: 
lecture by Christiane Johannot – Gradis Ph.D.
• Plenary discussion