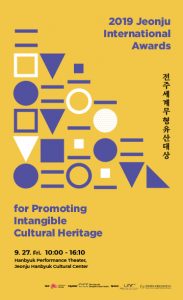 Opening this year for the first time, the awards had gained great positive feedback from around the world. Forty-eight applicants from 36 different countries applied for the awards. However, only three applicants (individuals and organizations) were selected as finalist.
The selection process was challenging as all applicants demonstrated good practices for the safeguarding of ICH with their courage and lofty spirit.

The first Jeonju International Awards for Promoting ICH has been elaborately prepared and the long-awaited awards ceremony will be held on September 27 from 10:00 to 16:10 at the Jeonju Hanbyuk Performance.
Read more on the official website.