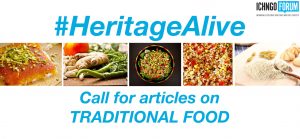 (French version below)
Call for articles: Traditional food
At 13.COM in Mauritius, the Editorial Board decided to concentrate on traditional food for our next publication. The deadline for submitting articles is April 1, 2019.
#HeritageAlive is the UNESCO-accredited ICH NGO Forum's online journal, where we share ground experiences from the field.
The articles should reflect NGOs' and experts' experiences from the field, when working with ICH. More than presenting an ICH element, the articles should reflect challenges and experiences in safeguarding and transmission.
The articles should be 2,000 to 3,000 words, in English or French. For references, we need to be consistent, so for the bibliography, please use the Harvard author-date system: http://www2.le.ac.uk/library/help/referencing/author-date
The article should be submitted as text only, without images. The author is responsible for proofreading the text for misspellings before passing it to the board. Documents with excessive misspellings and grammatical issues will be returned to the author.
Image files will be requested separately at a later date.
All NGOs are invited to contribute. Submissions should be sent to the Editor-in-Chief, Eivind Falk, eivind.falk@handverksinstituttet.no.
Articles will be discussed by the board as we receive them, and the authors will be given feedback for adjustments before publishing. We look forward to your contribution.
The book on traditional food is planned to be published at the end of 2019 and presented at 14.COM.
---
#HeritageAlive: appel d'articles sur la nourriture et la cuisine traditionnelles
Lors de la session 13.COMà Maurice, le comité éditorial a décidé de se concentrer sur la cuisine traditionnelle pour notre prochaine publication. La date limite de soumission des articles est le 1er avril 2019.
#HeritageAlive est le journal en ligne du Forum des ONG du PCI accréditées par l'UNESCO, où nous partageons des expériences de terrain.
Les articles doivent refléter les expériences des ONG et des experts sur le terrain lorsqu'ils travaillent avec le PCI. Plus que de présenter un élément du PCI, les articles devraient refléter les défis et les expériences en matière de sauvegarde et de transmission.
Les articles doivent compter entre 2 000 et 3 000 mots et être rédigé en anglais ou en français. Pour les références bibliographiques, veuillez utiliser le système de date-auteur de Harvard:http://www2.le.ac.uk/library/help/referencing/author-date
L'article doit être soumis sous forme de texte uniquement, sans images. L'auteur est responsable de la correction du texte avant de le transmettre au comité éditorial. Les documents contenant des erreurs d'orthographe et de grammaire excessives seront retournés à l'auteur.
Les fichiers d'image seront demandés séparément à une date ultérieure.
Toutes les ONG sont invitées à contribuer. Les soumissions doivent être envoyées au rédacteur en chef, Eivind Falk,eivind.falk@handverksinstituttet.no.
Les articles sont discutés par le comité éditorial au fur et à mesure que nous les recevons, et les auteurs recevront un retour d'informations pour les ajustements avant publication. Nous attendons votre contribution avec impatience !
Le livre sur la cuisine traditionnelle devrait être publié à la fin de 2019 et présenté durant 14.COM.