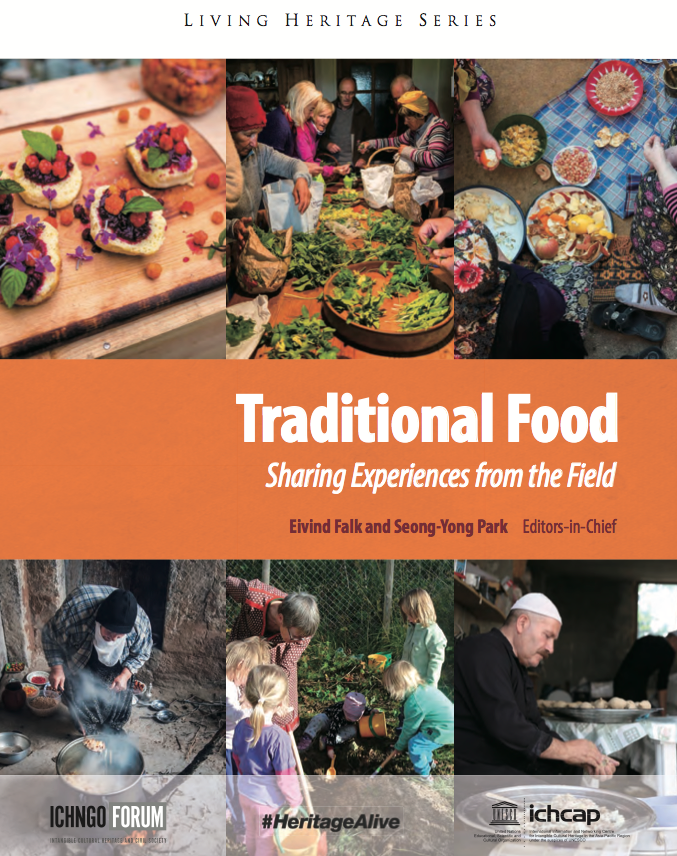 ICHCAP published the book Living Heritage Series – Traditional Food in collaboration with the ICHNGO Forum's #HeritageAlive. The Living Heritage Series is a serial publication on regional/national transmission and safeguarding of intangible cultural heritage elements. It focuses on a different topic each time, discussing the relevant intangible cultural heritage of various regions to raise the visibility of cultural diversity emphasized by the UNESCO.
The accredited ICH NGOs online journal #HeritageAlive has been sharing experiences from the field among NGOs and experts since 2012. Since 2017, #HeritageAlive and ICHCAP joined forces in to publish the Living Heritage Series biannually. In 2019, Traditional Food – Sharing Experiences from the Field was published as part of the series.
Here is possible to download the book. 
Excutive Publisher KEUM Gi Hyung
Editors-in-Chief Eivind Falk and Seong-Yong Park
Editorial Sta Deok-soon Kim, Weonmo Park, Jinhee Oh, Minji Kim and Soyoung Min
Editorial Board Antoine Gauthier, Ananya Bhattacharya, Casimir Ani, Emily Drani, Gabriele Desiderio, Hanhee Ham, Joseph Ogieriakhi, Ki Leonce, Robert BD Otto and Reme Sakr
Proofreader Gaura Mancacaritadipura, Michael Peterson and Bernidick Bryan Hosmillo
Project Coordinator Yunsuk Jang
---
Read the previous book: Traditional Medicine: exchange of experiences from the field