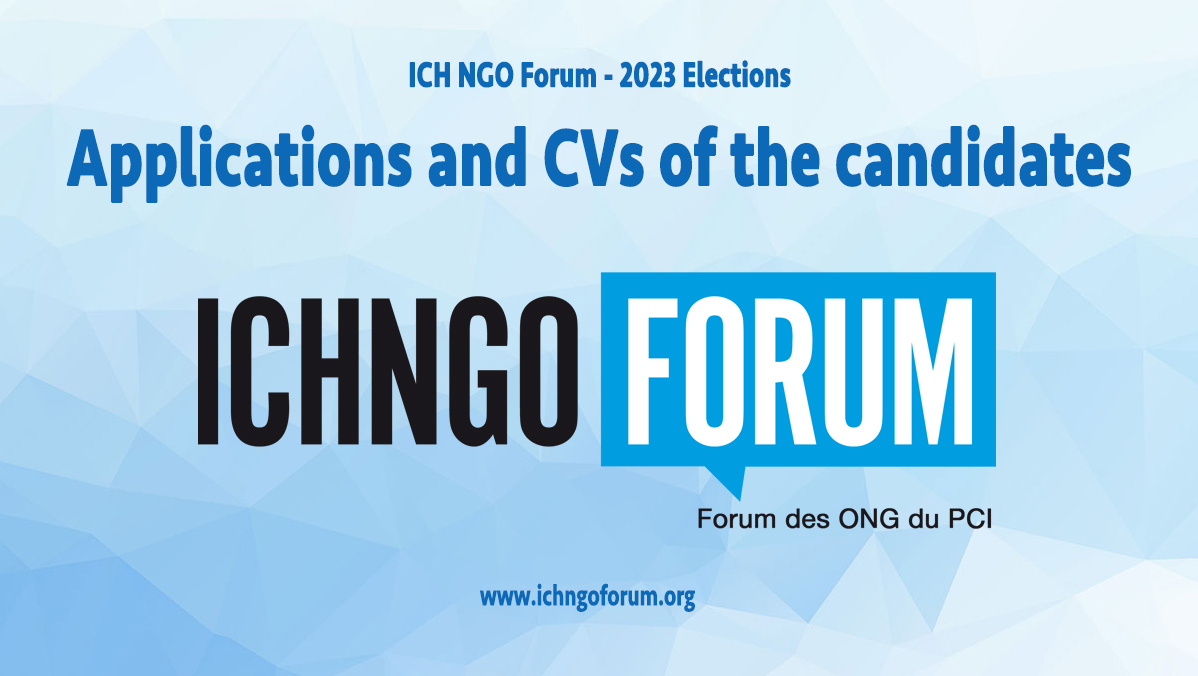 Lire la version française
Dear members of the ICH NGO Forum,
The Electoral Board is pleased to present the list of the eligible candidates for the 2023 elections of the Intangible Cultural Heritage NGO Forum Executive Board, for the following seats: Eastern Europe, Latin America and the Caribbean and Arab States.
Because the mandate of the member representing Africa will be finished this year, an election is held on an exceptional base to elect a member from Africa for a one-year term. We would like to thank all the candidates for their interest and participation.
Candidates will be allotted a 10 minute period to present themselves and their NGOs, as well as the contribution they wish to make to the Executive Board, during a meeting scheduled with the members of the Forum on Monday 4 December between 6:00 pm and 8:00 pm in a section reserved for the NGOs located at the Cresta Mowana Resort in Kasane, Republic of Botswana. The session will be chaired by the members of the Electoral Board. Presentations will be accessible through Zoom, recorded and made available on the Forum Website and Youtube Channel.
The candidate's files (application form and CV) are available on a Google Drive, at the following address: https://drive.google.com/drive/folders/1fJUz2xg7PrOPRgyaH0-RSpuXiqygAZyg?usp=sharing.
We invite you to examine them in preparation for the elections. Accredited NGO member to the ICH NGO Forum wishing to question the eligibility of a given candidate must write a letter to the Electoral Officers stating their reasons before the meeting to present the candidates on Monday, December 4th.
There is only one candidate from every electoral group, meaning there will not be an election. The election board suggests that the meeting on Monday 4th is to conclude the official appointment if there are no objections after electoral rule number 6 brought forward.
We thank all candidates for their participation and we look forward to meeting you all in person or online at Kasane, Botswana.
With our best regards,
The Electoral Board 
Pranav Chendke (Leader), Ellen Krageberg, Jose Barbieri
LIST OF ELIGIBLE CANDIDATES
2023 ELECTIONS – EXECUTIVE BOARD OF THE ICH NGO FORUM
Group II, Eastern Europe: Term 2023 -2025
Tamara Nikolić Đerić, Association HOUSE OF BATANA, Croatia.
Group III, Latin America ant the Caribbean: Term 2023 -2025
Irina Ruiz, FUNDACIÓN INDICRI, Panama.
Group V(a), Africa: Term 2023 -2024
Bachirou NJOYA, FONDATION PRINCESSE MOMAFON RABIATOU NJOYA, Cameroon.
Group V(b), Arab states: Term 2023 -2025
BEIDJEU MOHAMED MOHAMED LEMINE, Assocciation Mauritanienne pour les traditions popularies, Mauritania.