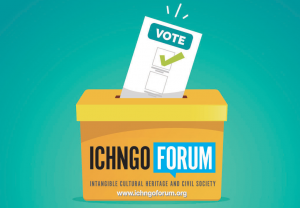 ---
Your form was successfully submitted.
You will receive a confirmation email. If you can't find it, check your SPAM folder. In the next few days we will send to this email all the informations for voting.
Please have a look at the ICH NGO Forum Election Candidates and Voting procedure: https://www.ichngoforum.org/news/ich-ngo-forum-election-candidates-and-voting-procedure/
-*-*-*-*-*-*-*-*-*-*-*-*-
Votre formulaire a été soumis avec succès.
Vous recevrez un e-mail de confirmation. Si vous ne le trouvez pas, vérifiez votre dossier SPAM. Dans les prochains jours, nous enverrons à cet e-mail toutes les informations pour voter.
Veuillez consulter le Forum des ONG du PCI sur les candidats aux élections et la procédure de vote:
ICH NGO Forum
www.ichngoforum.org
news@ichngoforum.org
Facebook: IchNgoForum