Report of the Ethics Working Group meeting held online on October 6, 2021,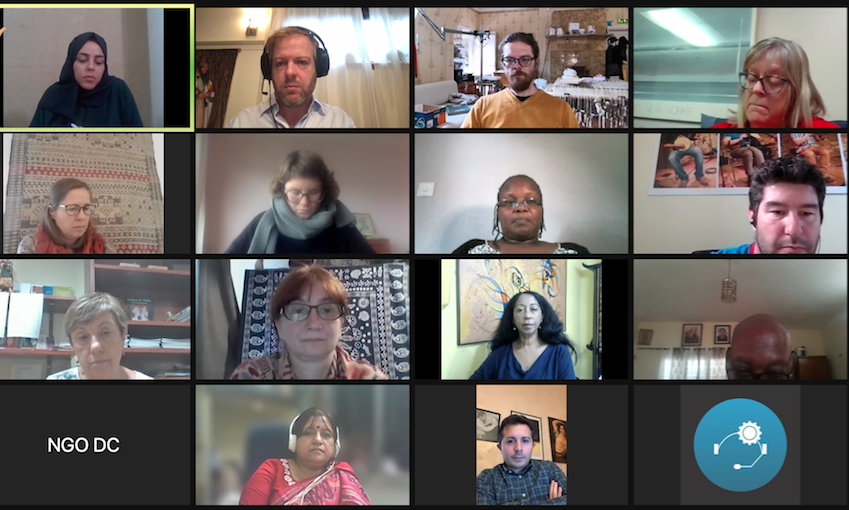 ICH NGO Forum
1. The group leader welcomes the participants, and presents a brief history of the work carried out over the past few years:
– Mini-colloquium on ethics on the proposal of 12 ethical principles for the safeguarding of intangible cultural heritage;
– Intervention before the assembly and improvement of the Committee's decision 10.COM/15.A in Namibia 2015;
– Conferences, information on ethical principles and discussions;
– Declaration of the Forum of ICH NGOs in the Republic of Mauritius on ethical principles for the safeguarding of ICH;
– Drafting of a draft code of conduct proposal for the members of the ICH NGOForum steering committee (in progress);
– Collaboration in the drafting of the Bylaws of the Forum;
– Meeting around article 21 of the Bylaws.
2. Participants initiate a discussion about their own experience using ethical principles. Some mention using them as indicators of achievement of results or to carry out their assessment at the end of the year. Others highlight their particular work in relation to Principles 1, 5 and 10. They point to the transformative nature of ethical principles when used to convince certain stakeholders to adopt different behavior. In general, these principles guide the way towards a central participation of the groups and communities concerned and towards essential respect in any form of safeguarding process. A participant presents the work carried out with local communities on the basis of tools produced on ethics and ICH, which act on their empowerment. Finally, a protocol of support for requests for national legal designations in respect of intangible heritage, based on ethical principles, is mentioned.
3. Ideas are raised for the next meeting of the working group, on the sidelines of the upcoming intergovernmental committee session in Sri Lanka in December 2021. A discussion meeting around different concrete cases related to ethics is proposed. Participants are invited to serve in advance relevant situations or documents. A participant suggested including in the exchange examples of strategies for not sharing materials or traditional expressions that members of a group or community do not wish to share. At the suggestion of another participant, everyone is also invited to send the chair their tools, in particular the consent forms relating to audio-visual documentation. These could be shared by email or through the ICH NGO Forum platform.
4. The next meeting will be an opportunity to choose a new chair of the ethics and ICH working group.
Antoine Gauthier
Chair of the Ethics Working Group
CEO of the Quebec Living Heritage Council (Canada)
* * *
Compte rendu de la réunion du Groupe de travail sur l'éthique tenue en ligne le 6 octobre 2021, Forum des ONG du PCI
1. Le responsable du groupe souhaite la bienvenue aux participants. Il présente un bref historique du travail effectué depuis quelques années:
– Mini colloque sur l'éthique portant sur la proposition de 12 principes éthiques pour la sauvegarde du patrimoine culturel immatériel;
– Intervention devant l'assemblée et bonification de la décision du Comité 10.COM/15.A en Namibie 2015;
– Conférences, information sur les principes éthiques et discussions;
– Déclaration du Forum des ONG du PCI en République de Maurice relative aux principes éthiques pour la sauvegarde du PCI;
– Rédaction d'une ébauche de proposition de code de conduite pour les membres du comité de pilotage du Forum des ONG du PCI (en cours);
– Collaboration à la rédaction des Statuts du Forum;
– Réunion autour de l'article 21 desdits Statuts.
2. Les participants entament une discussion sur leur propre expérience d'utilisation des principes éthiques. Certains mentionnent s'en servir comme indicateurs d'atteinte de résultats ou pour effectuer leur bilan à la fin de l'année. D'autres soulignent leur travail particulier en lien avec les principes 1, 5 et 10. Elles mentionnent le caractère transformateur des principes éthiques lorsqu'ils sont utilisés pour convaincre certaines parties prenantes d'adopter un comportement différent. De façon générale, ces principes guident la voie vers une participation centrale des groupes et des communautés concernés et vers un respect essentiel dans toute forme de démarche de sauvegarde. Une participante présente le travail effectué auprès de communautés locales sur la base d'outils réalisés sur l'éthique et le PCI, lesquels agissent sur l'empowerment de ces dernières. Enfin, est évoqué un protocole de soutien aux demandes de désignations légales nationales au titre du patrimoine immatériel, basé sur les principes éthiques.
3. Des idées sont soulevées pour la prochaine réunion du groupe de travail, en marge de la session du comité intergouvernemental à venir au Sri Lanka en décembre 2021. Une rencontre de discussion autour de différents cas concrets en lien avec l'éthique est proposée. Les participants sont conviés à signifier par avance des situations ou des documents pertinents. Une participante suggère d'inclure dans l'échange des exemples de stratégies de non-partage de documentation ou d'expressions traditionnelles que les membres d'un groupe ou d'une communauté ne souhaitent pas diffuser. À la suggestion d'une autre participante, tous sont également invités à acheminer au responsable du groupe leurs outils, notamment les formulaires de consentement relatifs à la documentation audio-visuelle. Ceux-ci pourront être partagés par courriel ou à travers la plateforme du Forum des ONG du PCI.
4. La prochaine réunion sera l'occasion de choisir un ou une nouveau responsable du groupe de travail sur l'éthique et le PCI.
Antoine Gauthier
Responsable du Groupe de travail sur l'éthique
Directeur général du Conseil québécois du patrimoine vivant (Canada)