According to the PACE Standing Committee, it is important to safeguard intangible cultural heritage – including traditions from the past such as the performing arts, social practices, oral traditions, rituals and festive events, practices concerning nature, or traditional crafts.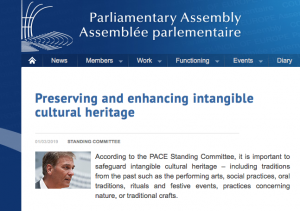 Stressing that intangible cultural heritage is a "living" heritage, the parliamentarians added that these practices should be enabled to evolve with the times and interact with other cultures, thus fostering a sense of belonging.
The resolution adopted (1st March 2019), on the basis of a report by Andries Gryffroy (Belgium, NR), presents a number of recommendations concerning policy design and implementation at national and local level, in order to preserve and enhance intangible cultural heritage. Recalling both the UNESCO Convention on this matter and the Council of Europe Faro Convention, the parliamentarians also called on UNESCO, the EU and the Council of Europe to build capacity and exchange insights between them.