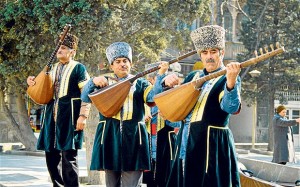 NGO Forum Symposium on 1st of December 2013 in Baku
The accredited NGOs Forum Meeting and Symposium will be held Sunday 1  December 2013 (expectedly from 11-17h);  So, book your flights to Baku for 8.COM keeping our NGO Forum Meeting in mind that will take place the day before the Committee meetings!
It will be held in JW Marriott Absheron Baku www.jw.marriottbaku.com situated in the city centre, in front of the Ministry of Culture and Tourism; The Forum will be held in the main meeting room – Sharg Hall – in order to provide direct retransmission of all the debates via web-cast.  Interpretation in English, French and Azeri will be provided during the NGO Forum (Azeri to encourage/support participation of local NGOs); We want to thank the Secretariat and the organizers in Azerbaijan very much for this strong facilitation of the international NGO Meeting.
You may expect further news on the program of the Sunday 1 December 2013 Symposium by the end of September.
Who's coming to Baku? 
It would be very nice to have already an overview of whom will be present in Baku, so please feel free to send a short email notice (Jorijn Neyrinck: jorijn@tapisplein.be or Diego Gradis: tradi@fgc.ch) confirming your presence when you have decided to travel to Baku, it will give the NGO Forum already an overview off the colleagues for cooperation in Baku.