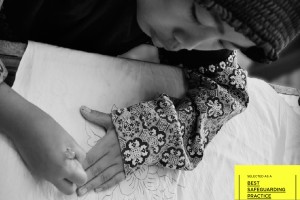 Dear accredited NGO members,
as you know, the Register of Best Safeguarding Practices under Article 18 of the 2003 Convention is a tool to share and learn from the successful examples of communities around the world. We are very pleased to announce that new on-line publications introducing a couple of Best Practices are now available.
Conserving nature or sustaining culture? How can communities go about safeguarding their heritage in a protected natural environment? In Brazil, the solution for the Caiçaras was to create a 'living museum' of their fandango, music and dance expression.  In cooperation with the Caburé Cultural Association, they have revitalized their heritage through this unique project. How can communities today reconcile modern schooling and heritage education? In Indonesia, leaders of a 'batik town' have initiated the integration of batik-making in school curricula. With teachers and batik practitioners, young people enjoy learning about their heritage, letting their creativity blossom.
Discover and share their success stories through easy-to-read, interactive guides and videos: http://www.unesco.org/culture/ich/en/Register
Since 2009, eleven Best Safeguarding Practices have been selected for the Register.
(En français)
Nouvelles publications sur les meilleures pratiques de sauvegarde disponibles en ligne  
Chers membres des ONG accréditées,
comme vous le savez, le Registre des meilleures pratiques de sauvegarde au sens de l'article 18 de la Convention de 2003 est un outil pour partager et apprendre des exemples réussis des communautés du monde entier. Nous sommes heureux de vous annoncer que les nouvelles publications présentant deux meilleures pratiques sont maintenant disponibles en ligne.
Préserver la nature ou soutenir la culture? Comment les communautés doivent-elles procéder pour  sauvegarder leur patrimoine dans un environnement naturel protégé? Au Brésil, la solution pour la Caiçaras était de créer un «musée vivant» de leur fandango, une expression de musique et de danse. En collaboration avec l'Association culturelle Caburé, ils ont revitalisé leur patrimoine grâce à ce projet unique.   Comment les communautés peuvent-elles concilier la scolarité moderne et l'éducation au patrimoine aujourd'hui? En Indonésie, les dirigeants d'une « ville du batik » ont initié l'intégration du batik dans les programmes scolaires. Avec les enseignants et les praticiens du batik, les jeunes aiment apprendre leur patrimoine, en laissant s'épanouir leur créativité.
Découvrez et partagez leurs histoires de réussite grâce à ces guides interactifs et vidéos : http://www.unesco.org/culture/ich/index.php?lg=fr&pg=00675  
Depuis 2009, onze Meilleures Pratiques de Sauvegarde ont été sélectionnés pour le Registre.