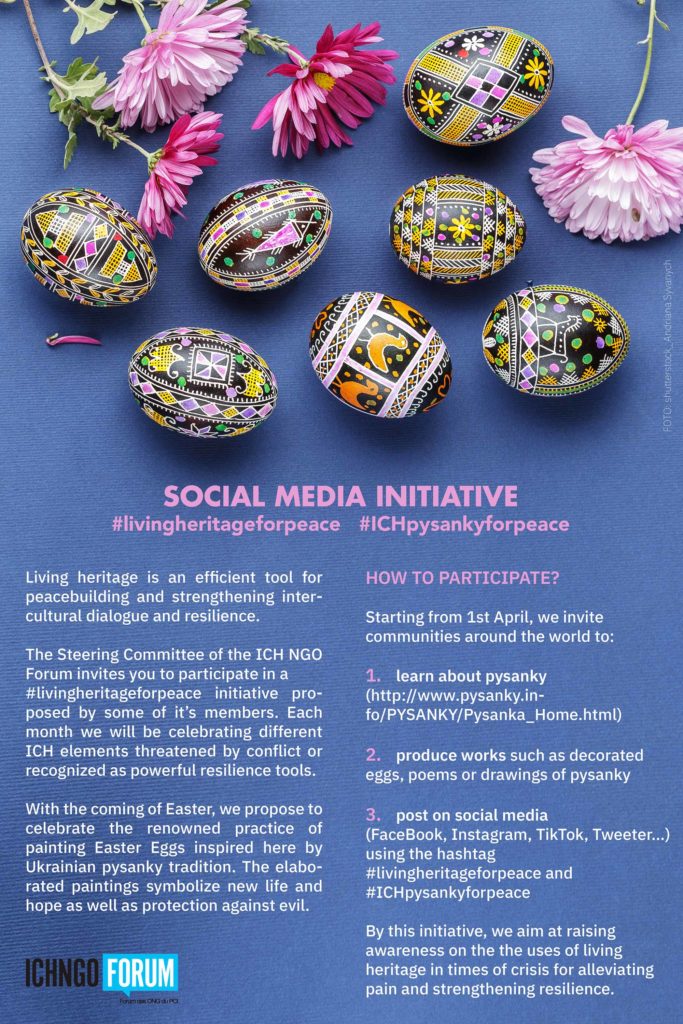 Living heritage is an efficient tool for peacebuilding and strengthening intercultural dialogue and resilience.
The Steering Committee of the ICH NGO Forum invites you to participate in a #livingheritageforpeace initiative proposed by some of it's members. Each month we will be celebrating different ICH elements threatened by conflict or recognized as powerful resilience tools.
With the coming of Easter, we propose to celebrate the renowned practice of painting Easter Eggs inspired here by Ukrainian pysanky tradition. The elaborated paintings symbolize new life and hope as well as protection against evil.
HOW TO PARTICIPATE?
Starting from 1st April, we invite communities around the world to:
1. learn about pysanky, http://www.pysanky.info/PYSANKY/Pysanka_Home.html;
2. produce works such as decorated eggs, poems or drawings of pysanky;
3. post on social media (FaceBook, Instagram, TikTok, Tweeter…) using the hashtag #livingheritageforpeace and #ICHpysankyforpeace
By this initiative, we aim at raising awareness on the the uses of living heritage in times of crisis for alleviating pain and strengthening resilience.