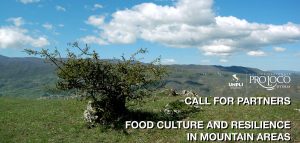 The Italian Network of Pro Loco Associations (UNPLI) announce a "call for partners" for a project within the H2020 Rural Renaissance program.
The title of the project is "FOOD CULTURE AND RESILIENCE IN MOUNTAIN AREAS".
It aims to design and test, within the European mountain rural areas, a development and resilience model based on food culture, meant as both agri-food industry value chain and intangible cultural heritage.
The project will also deliver a set of tools for policy makers, local communities, farmers, entrepreneurs, institutions and citizens.
Such objective will be achieved leveraging the knowledge and best practices on intangible cultural heritage and putting it in connection with economic operators, local communities, institutions and policy makers, in order to design and develop a sustainable growth model for mountain areas, which are tackling big challenges as, for instance, climate change, depopulation, and ageing.
All interested NGOs of ICHNGO Forum dealing with food culture in European mountain areas are welcome to contribute to this project, strengthening the internationalization and the intangible cultural heritage leg of the promoting consortium.
Please express your interest in joining the project and the international consortium by 11 January 2019 by writing to partnership@unpli.info.
Here the list of the organizations that have already joined the consortium:
INSOR – Istituto Nazionale di Sociologia Rurale (National Institution of Rural Sociology) – Italy
CIA – Confederazione Italiana Agricoltori (Italian Agriculture Confederation) – Italy
UNPLI – (Italian network of Pro Loco Associations) – Italy
UNPLI Lombardia – (Lombardy Committee of the Italian network of Pro Loco Associations) – Italy
IPACIM – Institut del Patrimoni Cultural Immaterial (Institute for Intangible Cultural Heritage) – Spain
Symbiotiqa srl – Italy
Cultural Research Foundation (KAV) – Turkey
Should you have any inquiry please contact us (partnership@unpli.info), we will be pleased to evaluate together with you the opportunities for your contribution to the project.
MAIN REFERENCES
H2020 – RURAL RENAISSANCE
TOPIC RUR-01-2018–2019: BUILDING MODERN RURAL POLICIES ON LONG-TERM VISIONS AND SOCIETAL ENGAGEMENT
SUB TOPIC C: BUILDING RESILIENT MOUNTAIN VALUE CHAINS DELIVERING PRIVATE AND PUBLIC GOODS (RIA – RESEARCH AND INNOVATION ACTION)
Project duration: 3 years
Budget: up to EUR 6 million
Deadlines: a) 1st stage: January 23rd 2019 – b) 2nd stage: September 4th 2019