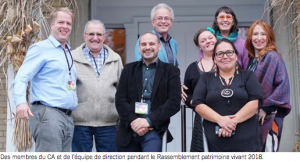 The final report of the 2018 Living Heritage Conference is now available (in French), including notably details of the various thematic working groups on elements of intangible heritage in Canada, and reflections on the use of the Global Result Framework of the 2003 ICH Convention. The event brought together more than 250 stakeholders last October in Quebec City to mark CQPV's 25th anniversary. Take a look at this new reference document, which represents a milestone in the dialogue and consultation between groups and communities related to intangible heritage.
Download the final report here (PDF).
(French)
Le rapport final du Rassemblement patrimoine vivant 2018 est maintenant disponible. Il contient notamment le détail des discussions des différents groupes de travail thématiques sur des éléments du patrimoine immatériel au Canada et des réflexions sur l'utilisation du Cadre global des résultats de la Convention de l'UNESCO de 2003.  L'événement a regroupé plus de 250 intervenants en octobre dernier à Québec pour souligner les 25 ans du CQPV. Allez jeter un oeil sur ce nouveau document de référence, qui constitue un jalon dans la concertation des groupes et des communautés liés au patrimoine immatériel.