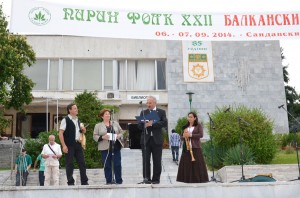 From 5 to 9 September 2014 a representative of the Circolo della Zampogna – consisting of the President Antonietta Caccia, the members and musicians Ivana Rufo and Lino Miniscalco as well as Angelo Bàvaro, responsible for activities related to the accreditation of the Circolo at UNESCO – participated in the meeting held in Sandanski, Bulgaria, between the partners of the European project TECT (Towards Excellence in Cultural Tourism), of which the Bulgarian town is promoter and leader. The aim of the project is that of fostering cooperation at European level between municipalities on the theme of the safeguarding of their cultural heritage through the cultural tourism. 
The members of the Circolo were part of the delegation from Sepino (Molise region, Italy) project partner together with the towns of Agia (Greece) and Harrida (Sweden), the Development Company of Santa Cruz de Tenerife (Spain) and the Association of Local Councils in Malta. 
The subject of the meeting was focused on the artistic expressions, crafts and music of the partners territories.
For the Circolo it has been a profitable occasion for giving its contribution in the discussions concerning the present trend in the field of the promotion and the enhancement of the ICH at touristic aims.
It is also to say that the Circolo since some years was maintaining a cultural exchange with Bulgaria on the themes of the bagpipe and of the traces left in Molise ICH by the ancient immigration of Bulgarian people in this region in the VII century. So, the participation in the meeting has been  also the occasion to reinforce the cultural bridge between Molise region and Bulgaria; what is also expressed in the welcome that we have had the honor to receive by the Minister of Culture, Ass. Prof. Dr. Martin Ivanov.
At the same time it has been the occasion for another  undeniable success for the zampogna (bagpipe); that thanks to the fascination of the instrument and  particularly to the high artistic and musical level of the musicians Ivana Rufo and Lino Miniscalco and their exciting performance in the international festival "Pirin Folk", that was happening in the same days of the meeting.
As evidence of the attention reserved to the Circolo and to the musicians, the Address of the  Minister has been read on the stage of the "Pirin Folk" festival by Latchezar Toshev, Honorary Associate of Parliamentary Assembly of the Council of Europe. 
Besides, the Bulgarian national television realized a large service broadcast on the channels BTN2 (September, 9) and BTN1 (September, 12) in the early evening, the last one visible at  http://bnt.bg/part-of-show/italianskite-gajdari-i-potomtsite-na-altsek , while the weekly magazine "Lechitel" has published an extensive article. 
To know more about the event, see on www.zampogna.org.