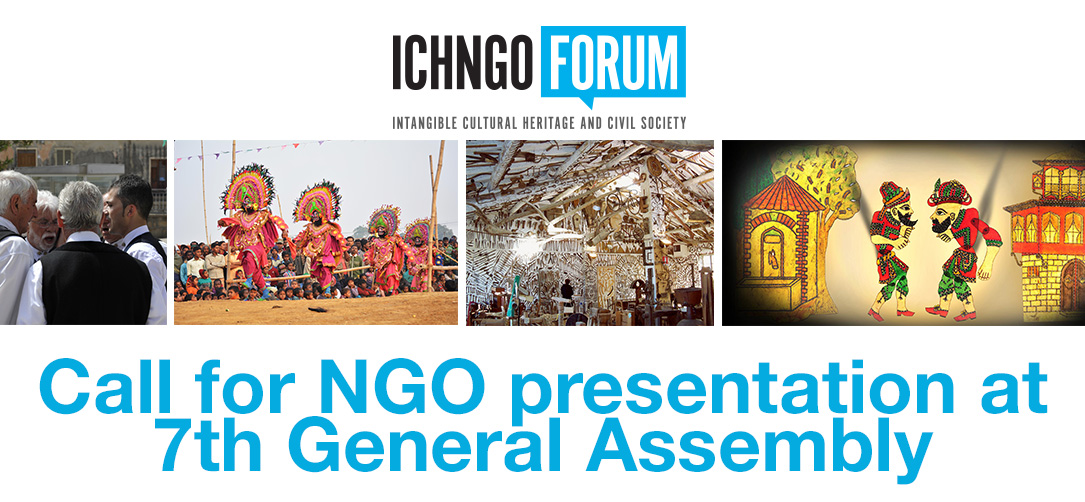 The ICH NGO Forum is happy to share to its members that the UNESCO Secretariat welcomes a presentation of NGO activities in the side events program of the 7th General Assembly (headquarters UNESCO, Paris), on 4 and 5 June 2018. The presentation is expected to demonstrate concretely and vividly contribution of accredited NGOs to the implementation of the UNESCO 2003 Convention and to the safeguarding of ICH. Please inform us if you would have a concrete proposal to share posters, audio visual material (will be played without sound), organize a performance or display on ICH. Creative contributions are much welcomed!
The following are the preliminary ideas:
A. NGO exhibition in the Foyer
• Tables will be available for the Forum, regional NGO groups, international NGOs and Heritage Alive
• There will space for posters or standees (Pop ups/'kakemonos'/grills) 
Ideally posters should have holes in the corner for fixing on metallic grills.
• Also objects or other could be exhibited, preferably offering visualization and context of active link to ICH practice and safeguarding
• Screens: There will be 2 screens to show self running audiovisuals using USB or laptop
• Installation will have to be set up on Sunday 3 June from 2 to 6 pm
B. NGO live presentations or performances
We invite you to set up presentations or live activities on ICH and safeguarding.
Note that all expenses will have to be borne by the NGOs. 
Options are e.g.:
perform in the foyer in the mornings and during the lunch breaks (in particular from 1 to 2pm, as there are side events every day from 2-3pm);
if the weather is nice, performances could possibly also be set up in the open space/Japanese garden outside;
event in room IV (NGO Room).
We look much forward to your concrete proposals by 10 May 2018 via ichngoforum@gmail.com mentioning:
1. Name of your NGO
2. Address of the NGO
3. Region
4. Whether International NGO
5. Contact person
6. Contact person phone and email
7. Your proposal for presentation:
A. Poster
B. Exhibit or 3D visualization (via object? Other?)
C. Video (max. 2 to 3 minutes, self-running, possible to send via internet or on USB-stick)
D. Live performance or presentation 
(Add short description, number of performers, duration, formats, space requirement, photo
)
---
Le Forum des ONG PCI est heureux de partager avec ses membres le fait que le Secrétariat de l'UNESCO accueille une présentation des activités des ONG dans le programme des événements parallèles du 7GA (siège UNESCO, Paris), les 4 et 5 juin 2018. La présentation devrait démontrer concrètement une contribution vivante des ONG accréditées à la mise en œuvre de la Convention UNESCO 2003 et à la sauvegarde du patrimoine culturel immatériel. Veuillez nous informer si vous souhaitez une proposition concrète de partage d'affiches, de matériel audiovisuel (qui sera joué sans son) sur le PCI. Les contributions innovatrices sont les bienvenues !
Voici les idées préliminaires :
A. Exposition d'ONG au Foyer
• Des tables seront disponibles pour le Forum, les groupes d'ONG régionaux, les ONG internationales et la revue #Heritage Alive#
• Il y aura de l'espace pour des affiches ou des personnes debout (Pop ups / 'kakemonos' / grils)
Idéalement, les affiches doivent avoir des trous dans le coin pour la fixation sur des grilles métalliques.
• Des objets ou autres pourraient également être exposés, offrant de préférence une visualisation et un contexte de lien actif avec la pratique et la sauvegarde du PCI.
• Écrans : Il y aura 2 écrans pour montrer des audiovisuels auto fonctionnant en utilisant l'USB ou l'ordinateur portable
• L'installation devra être mise en place le dimanche 3 juin entre 14h à 18h.
B. Présentations en direct ou représentations d'ONG:
Nous vous invitons à organiser des présentations ou des activités en direct sur le PCI et la sauvegarde.
Notez que toutes les dépenses devront être supportées par vos ONG.
Les options sont par exemple :
– se produire dans le foyer le matin et pendant les pauses déjeuner (en particulier de 13h à 14h, car il y a des animations tous les jours de 14h à 14h);
– si le temps est beau, des spectacles pourraient éventuellement être mis en place dans l'espace ouvert / jardin japonais à l'extérieur ;
– Événement dans la salle IV (Salle des ONG)
Nous attendons beaucoup vos propositions concrètes d'ici le 10 mai 2018 via ichngoforum@gmail.com mentionner:
1. Nom de votre ONG
2. Adresse de l'ONG
3. Région
4. Si une ONG internationale
5. Personne à contacter
6. Personne contact téléphone et email
7. votre proposition de présentation:
A. Un poster
B. exposition ou visualisation 3D (via objet? Autre?)
C. Vidéo (2 à 3 minutes maximum, auto-exécutable, possible d'envoyer via internet ou sur clé USB)
D. prestation en direct ou présentation (Ajouter une courte description, le nombre d'artistes, la durée, les formats, l'espace requis, la photo)