Call for Candidates for the Steering Committee
Only for accredited NGOs
(La version française suit)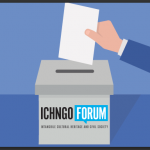 Dear NGO's members,
The Electoral Board is pleased to launch the call for candidates for the ICH NGO Forum Steering Committee.
The four newly elected members will represent the regions of the Arab States, Eastern Europe, Latin America and the Caribbean, as well as Africa to replace Seraphin Boute until the end of his term (2020) because of his recent death.
The Electoral Board calls interested accredited NGOs to submit their candidature in accordance with the electoral rules and guidelines attached.
Applications shall be submitted no later than November 4th 2019 (Midnight Eastern Daylight Time), to all the members of the Electoral Board below, using the application form attached duly completed and including a one to two page curriculum vitae pointing out ICH related experiences.
The election will take place on Wednesday December 11th 2019 in Bogota (Colombia) during the ICH NGO Forum General meeting.
We thank you for your participation and look forward to receiving your application as soon as possible.
With our best regards,
The Electoral Board
Mme. Ananya BHATTACHARYA (Contact Base, India) – ananya@banglanatak.com
Mme. Hanhee HAHM (Center for Intangible Culture Studies, South Korea) – hanheeh@jbnu.ac.kr
Mr Laurier TURGEON (Folklore Studies Association of Canada, Canada) – laurier.turgeon@hst.ulaval.ca
DOCUMENTS:
​
---
Appel à candidatures pour le Comité de pilotage
Uniquement pour les ONG accréditées
Chers membres d'ONG,
Le Conseil des élections est heureux de lancer l'appel à candidatures pour le Comité de pilotage du Forum des ONG-PCI.
Les quatre membres élus devront représenter les régions Amérique latine et Caraïbes, États arabes, Europe de l'Est ainsi que l'Afrique pour remplacer Seraphin Boute jusqu'à la fin de son mandat en 2020 en raison de son décès récent.
Le Conseil des élections appelle les ONG accréditées à soumettre leur candidature en suivant les règles électorales (en pièce jointe).
Les candidatures doivent être soumises pas plus tard que le 4 novembre 2019 (minuit heure de l'Est) à tous les membres du Conseil des élections ci-bas, en utilisant le formulaire de candidature ci-joint, dûment complété et accompagné d'un curriculum vitae d'une à deux pages démontrant l'expérience acquise dans le domaine du PCI.
L'élection aura lieu le mercredi 11 décembre 2019 à Bogota (Colombie) durant la Rencontre générale du Forum des ONG-PCI.
Nous vous remercions de votre participation et de la soumission de vos candidatures.
Avec nos cordiales salutations,
Le Conseil des élections
Mme Ananya BHATTACHARYA (Contact Base, Inde) – ananya@banglanatak.com
Mme Hanhee HAHM (Center for Intangible Culture Studies, Corée du Sud) – hanheeh@jbnu.ac.kr
M. Laurier TURGEON (Association canadienne d'ethnologie et de folklore, Canada) – laurier.turgeon@hst.ulaval.ca
DOCUMENTS: