(See below for the french version)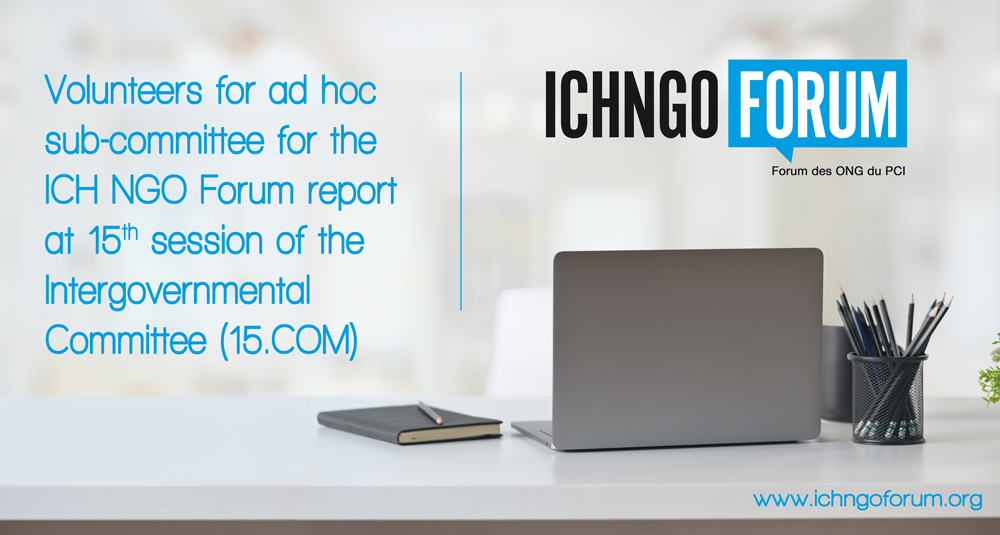 Dear colleagues,
we hope that this email finds you well and safe from the spread of Covid-19.
As you know, at 14. COM the Intergovernmental Committee decided to include our report as a separate agenda item at its next session. It will be first such report in the history of the Forum, and it requires our due attention.
Several members of the Steering Committee had an online meeting with UNESCO Secretariat, where we discussed formal requirement for the report. It is expected to be no longer than 5 pages; it may use as a model the reports of ad hoc working groups; the greatest attention should be given to the draft decision as the binding part of the agenda item, while overall contents of the report is up to the Forum to decide. The deadline for completing the English version of the report is the end of September. The Secretariat will translate it into French, and both versions needs to be available at the UNESCO website by 2 November (i.e., a month in advance to 15. COM).
Further on, the Steering Committee discussed the contents of the report, and have identified the following parts as the most important: (i) report on the Forum's activities prior and during 14. COM and on activities prepared for 15.COM, and their contextualization in relation to the role of NGOs in safeguarding ICH in general; (ii) Forum's views and suggestions pertaining to three important ongoing topics in the work of the Intergovernmental Committee, namely (a) the reform of the listing mechanism, (b) the role of NGOs and possible reform of the accreditation system, and (c) ICH in emergencies; (iii) resilience of communities and their ICH against Coronavirus epidemic (this last topic representing a special, currently burning example of ICH in emergencies in general terms).
In order to secure the broadest possible participation of ICH NGOs in the preparation of the report, we have decided to launch an invitation to all accredited NGOs to join ad hoc working subcommittee that will be directly and actively involved in the needed analyses to be conducted and the drafting of the report. It is expected that the work of the subcommittee will be organized into several groups that will be in charge of the above-mentioned parts of the report; members of each group will communicate regularly through email correspondence and online Skype meetings.
Those of you who would like to join in, please contact Naila Ceribasic (ichngoforum@gmail.com), a secretary of the Steering Committee who will coordinate the work of the subcommittee, no later than 15 June 2020.
With best wishes,
Steering Committee of the ICH NGO Forum
---
Volontaires pour le sous-comité ad hoc pour le Rapport du Forum des ONG du PCI à 15. COM
Chers collègues,
Nous espérons que ce courriel vous trouve bien et à l'abri de la propagation de Covid-19.
Comme vous le savez, à 14. COM, le Comité intergouvernemental a décidé d'inscrire un point séparé de l'ordre du jour sur le Rapport du Forum des ONG pour sa prochaine session (15.COM). Il s'agira du premier rapport de ce type dans l'histoire du Forum et il va requérir notre plus grande attention.
Plusieurs membres du Comité directeur ont tenu une réunion en ligne avec le Secrétariat de l'UNESCO, au cours de laquelle nous avons discuté des exigences formelles du Rapport. Il ne devrait pas dépasser 5 pages; il pourrait s'inspirer des rapports des groupes de travail ad hoc; la plus grande attention devrait être accordée au projet de décision en tant que partie contraignante du point de l'ordre du jour, tandis que le contenu général du Rapport se met à la discrétion du Forum. La date limite pour rédiger le Rapport en anglais est fin septembre. Le Secrétariat le fera traduira en français, et les deux versions doivent être disponibles sur le site Web de l'UNESCO au plus tard le 2 novembre (c'est-à-dire un mois à l'avance pour 15. COM).
Par la suite, le Comité directeur a examiné le contenu du Rapport et a identifié les parties suivantes comme les plus importantes: (i) rapport sur les activités du Forum avant et pendant 14. COM et sur les activités prévues pour 15.COM, et leur contextualisation en ce qui concerne le rôle des ONG dans la sauvegarde du PCI en général; (ii) Points de vue et suggestions du Forum concernant trois sujets importants en cours d'examen dans les travaux du Comité intergouvernemental, à savoir (a) la réforme des mécanismes d'inscription sur les Listes de la Convention, (b) le rôle des ONG et la réforme éventuelle du système d'accréditation, et (c) PCI dans les situations d'urgence; (iii) la résilience des communautés et de leur PCI contre l'épidémie de coronavirus (ce dernier sujet représente un exemple particulier, actuellement brûlant du PCI dans les situations d'urgence en termes généraux).
Afin d'assurer la participation le plus large possible des ONG du PCI à la préparation du Rapport, nous avons le plaisir de vous inviter cordialement à toutes les ONG accréditées à se joindre au sous-comité de travail ad hoc qui sera directement et activement impliqué dans les analyses nécessaires à mener et la rédaction du Rapport. Il est prévu que les travaux du sous-comité soient organisés en plusieurs groupes qui seront chargés des parties susmentionnées du Rapport ; les membres de chaque groupe communiqueront régulièrement par courriel et par des réunions Skype en ligne.
Si vous voulez s'y joindre, veuillez contacter Naila Ceribasic, secrétaire du Comité directeur qui coordonnera les travaux du sous-comité, par courriel à l'adresse ichngoforum@gmail.com au plus tard le 15 juin 2020.
Avec nos meilleurs vœux,
Comité directeur du Forum des ONG du PCI