Voir la version française plus bas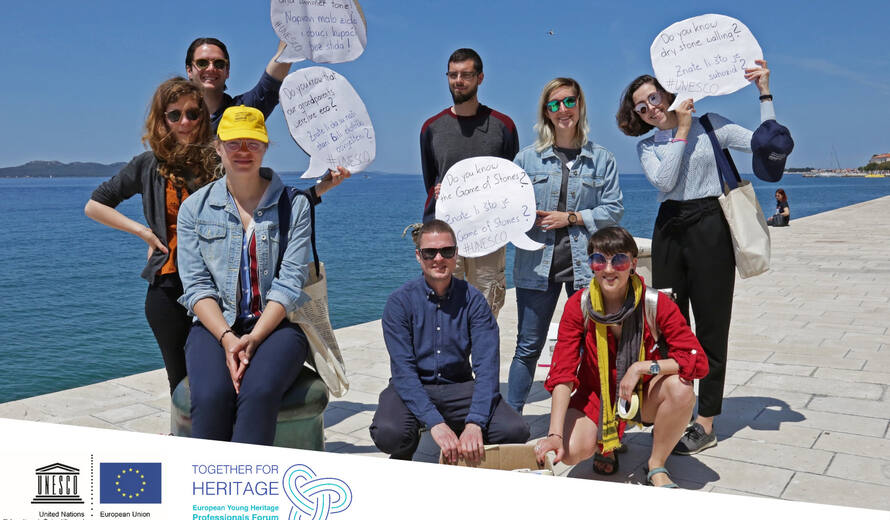 Dear representatives of NGOs accredited to the 2003 Convention Committee in Europe region,
In 2019, the European Young Heritage Professionals Forum brought together 28 young heritage professionals to address challenges they face in safeguarding of tangible and intangible cultural heritage, and to explore innovative ways to address them. The Forum was successful in building a network of young cultural heritage messengers at the European, national and local levels.
In that regard, the Secretariat of the Convention for the Safeguarding of the Intangible Cultural Heritage is pleased to share with you the invitation to the upcoming webinar on European Youth and Heritage to be held on 23 April 2021 from 14:00 to 15:30 Paris time. The webinar welcome young heritage professionals, students and heritage enthusiasts across Europe and beyond to join the discussion and discover a thriving network of 'Cultural Heritage Messengers'.
You can find more information here. Please contact Ms Helena Drobna (h.drobna@unesco.org) if you have any questions and do not hesitate to share the invitation among your networks.
The webinar will feature opening remarks from Jyoti Hosagrahar, Deputy Director, UNESCO World Heritage Centre, and Catherine Magnant, Head of Cultural Policy Unit, European Commission.
Please note that you will have to register in advance. For any technical assistance, please write to our IT colleague Mr Raheel Mohammad (r.mohammad@unesco.org).
Wishing you a nice day,
The ICH Secretariat
---
Chers représentants d'ONG accréditées auprès de la Convention de 2003 dans la région Europe,
En 2019, le Forum européen des jeunes professionnels du patrimoine a réuni 28 jeunes professionnels afin d'aborder les défis auxquels ils sont confrontés dans la sauvegarde du patrimoine culturel matériel et immatériel, ainsi que pour explorer des moyens innovants de les résoudre. Le Forum a permis la création d'un réseau de jeunes messagers du patrimoine culturel aux niveaux européen, national et local.
A cet égard, le Secrétariat de la Convention de 2003 pour la sauvegarde du patrimoine culturel immatériel a le plaisir de vous inviter au prochain webinaire sur la jeunesse européenne et le patrimoine découvrir un réseau florissant de messagers du patrimoine culturel.
Vous pouvez trouver plus d'informations ici. Veuillez contacter Mme Helena Drobna (h.drobna@unesco.org) si vous avez des questions et n'hésitez pas à partager l'invitation parmi vos réseaux.
Le webinaire s'ouvrira par des remarques préliminaires de Jyoti Hosagrahar, directrice adjointe du Centre du patrimoine mondial de l'UNESCO, et de Catherine Magnant, chef de l'unité Politique culturelle de la Commission européenne.
Veuillez noter que vous devrez vous inscrire à l'avance. Pour toute assistance technique, veuillez écrire à notre collègue informaticien M. Raheel Mohammad (r.mohammad@unesco.org).
En vous souhaitant une bonne journée,
Le secrétariat du PCI