(voir ci-dessous pour la version française)
Report of the Ich Ngo Forum for 15COM
The ICH NGO Forum expressed its gratitude for the support of the Committee, States Parties and the Secretariat for more extensive NGO involvement with the Convention. The Forum noted NGOs deep involvement in safeguarding ICH through close collaborations with communities and groups.
The Forum's report was prepared through a broad-based consultation process involving the entire membership of the Forum, and coordinated by an ad hoc working group and the Forum's Steering Committee. It provides an overview of the history of the Forum, describes its current activities and roles within the Convention, and indicates recent organizational development and governance initiatives. The full report is availablehere. This agenda item (15COM 6) is scheduled for 14 December after 1.30 p.m. Please attend it.
IMPORTANT: Go to the ICH NGO Forum's report for 15COM >>>> This agenda item (15COM 6) is scheduled for 14 December after 1.30 p.m. Please attend it.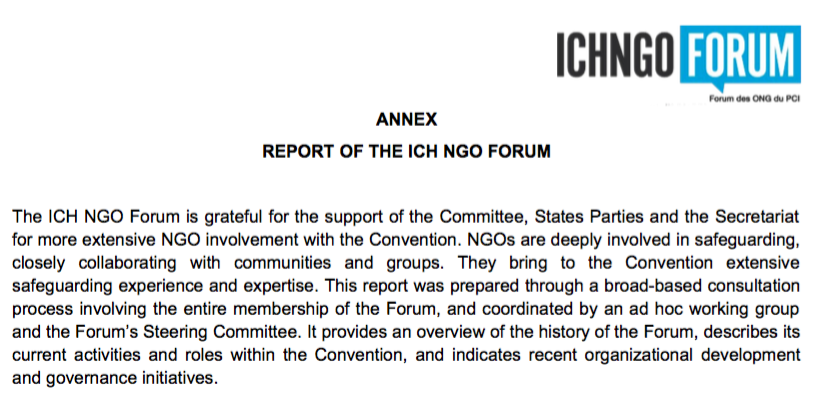 ---
Rapport du Forum des ONG du PCI pour 15COM
Le Forum des ONG du PCI a exprimé sa gratitude au Comité intergouvernemental, aux États parties et au Secrétariat pour le soutien qu'ils avaient apporté à pour une participation plus étendue des ONG à la Convention. Le Forum a noté l'implication profonde des ONG dans la sauvegarde du PCI grâce à des collaborations étroites avec les communautés et les groupes. Le rapport du Forum a été élaboré dans le cadre d'un vaste processus de consultation impliquant l'ensemble des membres du Forum et coordonné par un groupe de travail spécial et le Comité directeur du Forum. Il donne un aperçu de l'histoire du Forum, décrit ses activités et ses rôles actuels dans le cadre de la Convention, et fait état des récentes initiatives de développement organisationnel et de gouvernance. Le rapport complet est disponible ici.
IMPORTANT: consultez le rapport du Forum des ONG du PCI pour la 15COM >>>> Ce point de l'ordre du jour (15COM 6) est prévu pour le 14 décembre après 13h30. Veuillez y assister.