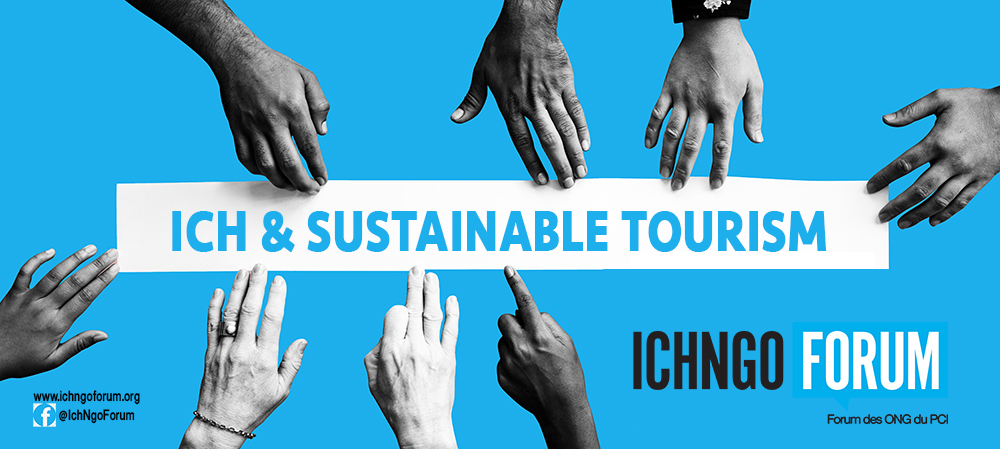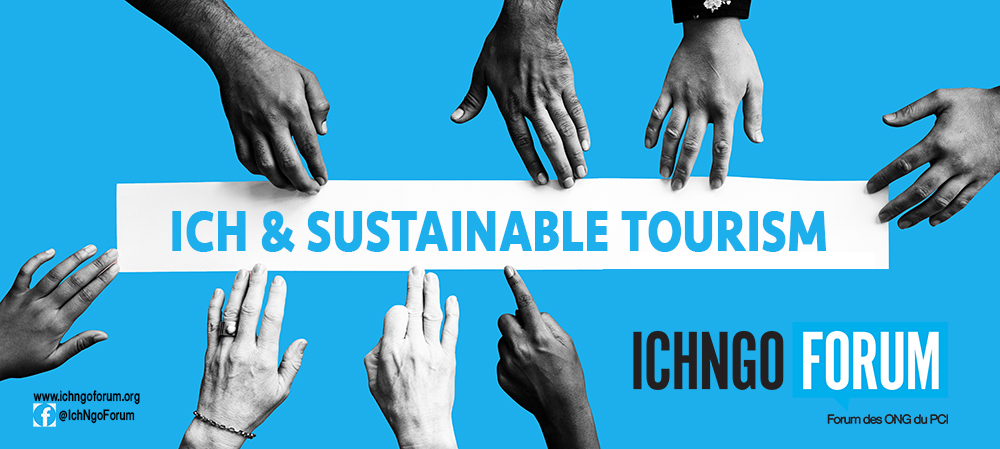 ONLINE WEBINAR and LAUNCH
ICH NGO Forum web dossier on intangible heritage and sustainable tourism
A new and rich resource to be launched on 27 October 2022
27 October 2022
2.00 pm – 4.00 pm CEST
On ZOOM – https://us06web.zoom.us/j/81091438904
REGISTRATION – To register click here
You are active in a NGO, you are a policy worker, or you are part of a community or group safeguarding its living heritage…?
The web dossier on intangible heritage and sustainable tourism has been elaborated by the ICH NGO Forum to help you develop sustainable living heritage tourism practices.
It provides general context, useful tools for developing ICH tourism projects, discussion on key issues and examples of sustainable tourism initiatives.
You will find here reference documents of international organisations concerned with ICH, as well as links to publications and online resources. It also boasts mutual dialogue and transparent cooperation between all stakeholders involved.
This initiative aims also to create a forum, to establish this very dialogue between key actors and networks committed to develop good practices on tourism and ICH.
---
Living heritage, such as foodways, handicrafts, festive, ritual and social practices, knowledge of nature and the universe, performing arts and traditional music are often part of what travellers want to discover in the local contexts, along with heritage sites and landscapes. They get promoted as destinations for tourists. This is even more so when intangible heritage elements are inscribed in an UNESCO list of Heritage of Humanity.
Let's face it: tourism can be a powerful lever for development, offering as well new incentives to the practitioners and bearers of ICH, new opportunities for performances or marketing of crafts, and creating wider recognition of living heritage. However, tourism can also be a disruptive force, hurting the very cultural practices it puts in focus.
UNESCO debates are focusing increasingly on tourism's role and impacts on intangible heritage. Concerns about the possible risks of (over)commercialisation and decontextualisation are being expressed. The member states of the Convention for the Safeguarding of the Intangible Cultural Heritage requested guidelines with recommendations for safeguarding actions and with exemplary practices in connection with tourism, which could be implemented by member states and heritage communities. For UNESCO it is crucial that "communities, groups and individuals concerned are the primary beneficiaries of any tourism associated with their own intangible cultural heritage while promoting their lead role in managing such tourism'.
There is an urgent need for well-designed strategies and approaches that reconcile tourism and safeguarding of ICH, in line with sustainable development. Taking into account these challenges, the ICH-NGO Forum December 2020 symposium on 'Making ICH tourism more Sustainable and Regenerative in Post-Pandemic Situations', proposed to develop an online dossier and toolbox on ICH & Sustainable Tourism, to contribute to these pressing questions by which so many of the ICH communities and policy-makers are concerned.
The web-dossier on Intangible Heritage and sustainable tourism is addressed to all people working in the heritage sector or in the tourism field. Via the Webinar on 27 October 2022 it is being launched in the international community.
Join the happening!
Programme: 
The detailed programme will follow soon!
Greetings
Presentation of the initiative and the web dossier intangible heritage & sustainable tourism
Experiences from the NGO field & expert reflections
Public space for questions and discussion
Wrap up and the way forward