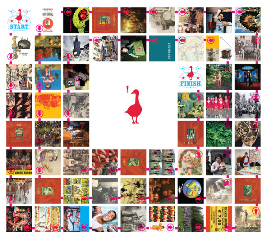 Tapis plein NGO is an interface centre for people and organisations engaged in heritage participation and Intangible cultural heritage. Tapis plein develops activities in diverse cultural and interdisciplinary (inter)national forums with focus on intangible heritage and public/civic participation. We bring together practices, experiences, literature, methodology on the topic of working with broad and diverse publics in the intangible heritage field.
By its work, tapis plein always tries to develop innovative heritage (best) practices, make new connections, create other perspectives, bring inspiring approaches,…
Some projects and initiatives of tapis plein:
* www.immaterieelerfgoed.be : moderation of the digital platform of ICH in Flanders
* UN-TOUCHABLE : an interactive project and travelling exposition in the form of a popular game, sensitizing for the safeguarding of ICH. The project aimed at the broad public, but all the more at the young ones, asking questions and showing different points of view on the safeguarding of intangible heritage. The project travelled through all of Flanders and to South-Africa from 2005 to 2009.
* Handmade in Bruges :  a collaboration of committed inhabitants and organization to develop a sustainable future for Bruges by choosing to give full opportunities to the mastery of many craftspeople of past and present times. Tradition can be breeding ground for innovation; by Handmade in Bruges a series of initiatives (with partners from heritage, tourism, economy,…) make room for experimentation and contemporary approaches integrating the past.
More projects: <a href="http://www.tapisplein.be/nl/archief">http://www.tapisplein.be/nl/archief</a>
As NGO tapis plein is recognized and financed as a Flemish Centre for Cultural Heritage Expertise within the Flemish Policy for Cultural Heritage. The organization has been accredited on November 18th 2010 by UNESCO 5.COM and in 2012 by the General Assembly as expert organization in the framework of the UNESCO Convention for the Safeguarding of Intangible Cultural Heritage (2003). In October 2011 tapis plein won the Flemish Culture Award for Cultural Heritage. Since 2008 tapis plein (in the person of Jorijn Neyrinck) also has been active as chairman and member of the Commission for Intangible Cultural Heritage in Flanders. Since 2012 tapis plein is active in the organization of the NGO Forum; a.o. as contact point for the UNESCO Secretariat.
Domain(s): All domains. Our focus is on the methods of participatory safeguarding through all domains of ICH.
(a) oral traditions and expressions, including language as a vehicle of the intangible cultural heritage;
(b) performing arts;
(c) social practices, rituals and festive events;
(d) knowledge and practices concerning nature and the universe;
(e) traditional craftsmanship.
Main Safeguarding measures:
c) promotion, enhancement;
d) transmission, (non-) formal education;
e) revitalization
Tapis plein develops and brings together:
– practices  (realizing projects and experiments on ICH, participatory & educational working)
– experiences (giving opportunities for exchange and networking)
– literature (publishing texts on ICH participation and education, as well as follow-up national and international publications relating to ICH)
– methodology  (do it yourself guides and manuals, publications, worksheets on best practices and safeguarding)
– the central platform for safeguarding ICH in Flanders as moderating organization of the digital database and interactive website www.immaterieelerfgoed.be
Main countries where the NGO works: Belgium
Local, national or international level of the NGO: National NGO, operating in international perspective and networks.